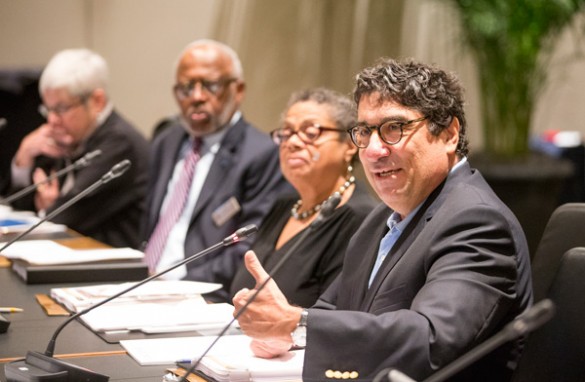 Chancellor Nicholas S. Zeppos convened the Visiting Advisory Board for Diversity and Equity on campus June 10. The group comprises diversity and inclusion leaders representing peer universities as well as Nashville and Middle Tennessee organizations. It is charged with advising the chancellor-appointed Diversity, Inclusion and Community Committee as it continues its work to create concrete recommendations for making Vanderbilt a more diverse and inclusive institution.
The advisory board met with members of the Diversity, Inclusion and Community Committee in a daylong session at the Student Life Center Friday. The visitors were asked to assess the committee's working plan and give candid feedback based on their expertise and real-world experiences.
In his opening remarks, Zeppos likened the effort to laying railroad tracks for a train that he and others involved likely won't ever see reach its destination.
"But if we don't start to lay the track, no one will think that we can ever get to that beautiful station of justice, equality, diversity and inclusion at Vanderbilt or in our larger society," he said. "We're going to get the train on those tracks, and we're going to move it as far along as we can."
Zeppos emphasized the importance of being thoughtful, deliberate and definitive in these efforts so that they won't easily be derailed in the future.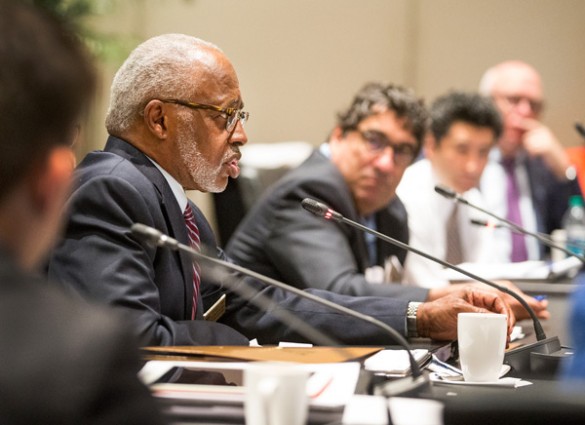 "My colleagues have done an amazing job of telling a story, of putting together a set of data and action points. Having said that, I don't want to be too overly prescriptive," Zeppos told the advisory board. "I want an honest assessment of our efforts. I want you to give us the good, the bad and the ugly."
George C. Hill, vice chancellor for equity, diversity and inclusion, echoed this sentiment.
"One of the things that's very important to us is to hear your candid recommendations," said Hill, who serves as Vanderbilt's chief diversity officer.
"Our chancellor is really, really committed to this effort," Hill said. "One of the first things he said when he spoke with the faculty last August was that the issue of diversity, inclusion and equity was central to what he was about, and if we did not solve it, then Vanderbilt will not be a great institution."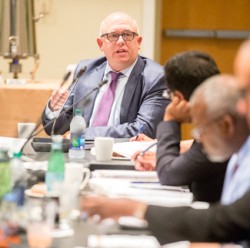 Vice Provost of Academic and Strategic Affairs John Geer spoke on behalf of the Office of the Provost.
"I have been working with our provost, Susan Wente, now for three years, and one of the things that she's committed to, in partnership with Chancellor Zeppos and Vice Chancellor Hill, is making diversity a part of every conversation at the start," Geer said.
"This university is very much committed to what we call trans-institutional research and learning," he continued. "We take advantage of our real estate and the fact that we are a compact campus with 10 amazing colleges. We're attempting to solve the big problems of society—the grand challenges, as we often call them—and that requires us to gather diverse perspectives, bring in people with different life experiences to bear on the conversation.
"We've had some successes, but we need to do more. We need to make this a part of our culture in every way, shape and form," Geer said. "We need to know about the good, the bad and the ugly, because in doing so, we can move forward. We can start building those railroad tracks."
Both Zeppos and Hill discussed their desire for members of the Visiting Advisory Board for Diversity and Equity to have ongoing involvement with the university—through retreats, workshops and presentations—as Vanderbilt continues to develop its diversity and inclusion efforts and assess the results.