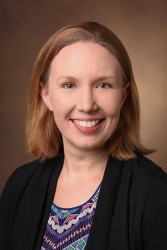 The Pew Charitable Trusts has named Assistant Professor of Biological Sciences and Biochemistry Lauren Parker Jackson as a member of its 2016 class of Pew biomedical scholars.
According to the organization, the 22 early-career scientists are drawn from prestigious institutions across the country, with each scholar receiving four years of flexible funding to pursue foundational, innovative research. The current grant level is $240,000: $60,000 per year.
"For more than 30 years, The Pew Charitable Trusts has proudly supported outstanding biomedical researchers at the start of their careers, encouraging the kind of creativity that leads to remarkable discoveries," said Rebecca W. Rimel, president and CEO of The Pew Charitable Trusts. "The members of this exemplary group join a community of scientists that they will learn with, and learn from, for the rest of their lives."
Jackson completed her undergraduate degree at Vanderbilt University with a B.S. in Chemistry (summa cum laude); she was awarded the College of Arts & Science Founder's Medal for first honors and elected to Phi Beta Kappa. She earned her Ph.D. at Trinity College and the MRC Laboratory of Molecular Biology in Cambridge, UK, before joining the Boston Consulting Group in London. She became a postdoctoral fellow at the Cambridge Institute for Medical Research before joining the biological sciences department at Vanderbilt in 2014 and receiving a secondary appointment in the Department of Biochemistry in 2016.
Jackson's research focuses on cell logistics: All eukaryotic cells must solve a logistical challenge in moving proteins and fatty lipids between different membrane-bound organelles, much like Fedex moves packages between different hubs around the world. Her lab studies these fundamental cellular processes, broadly referred to as membrane trafficking pathways. Using a range of techniques, her research group explores how cells initiate and regulate these pathways, which are critical to human health and disease. Her goal is to identify unknown components and to characterize the molecular mechanisms of ill-defined pathways. Furthermore, she hopes to provide insight into human diseases, including the neurological disorders and cancers caused by mutations in or loss of vital trafficking proteins.