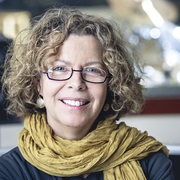 The Program for Music, Mind and Society at Vanderbilt—a cross-disciplinary effort funded by the university's Trans-Institutional Programs (TIPs) initiative—presents its annual symposium, "The Science of Song," Sept. 12 from 2 to 8 p.m. in Ingram Hall of the Blair School of Music.
The symposium's keynote talk will be given by cognitive neuropsychologist Isabelle Peretz, professor of psychology at the University of Montreal. Her research focuses on the musical potential of ordinary people, its neural correlates, its heritability, and its specificity relative to language. Her research lab is part of the International Laboratory for Brain, Music and Sound Research, which specializes in the study of music cognition and is affiliated with the University of Montreal, McGill University, and the Montreal Neurological Institute.
In addition to the keynote, the symposium will feature musical performances, a songwriters' round, information about current research and a poster session. (A call for abstracts is coming soon.)
The Program for Music, Mind and Society at Vanderbilt involves investigators and more than three dozen researchers from the Vanderbilt Bill Wilkerson Institute, Department of Otolaryngology, Vanderbilt Brain Institute, Blair School of Music, School of Engineering, Vanderbilt Kennedy Center, and the Vanderbilt Curb Center for Art, Enterprise and Public Policy. Their research on music and the mind is helping to advance a knowledge base in music cognition, behavioral studies and neuroimaging across multiple disciplines, including psychology, neuroscience, medicine, education and music performance.
More details about the symposium are to come on the Music, Mind and Society website. For more information, email musicandmind@vanderbilt.edu.
Contact: Ashley Hirsch