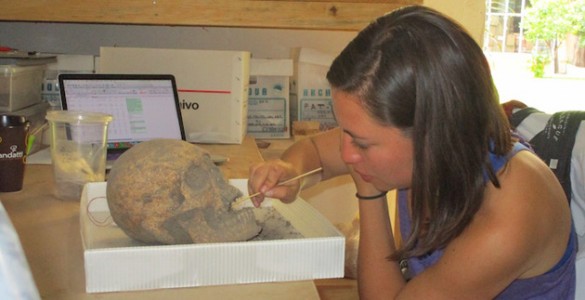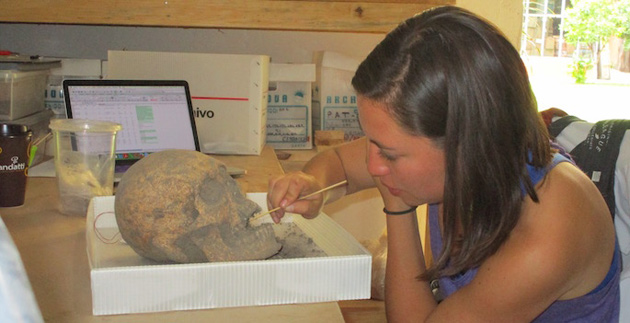 Five Ph.D. students affiliated with the Department of Anthropology have landed significant grants this year, continuing a long trend of success for the department's graduate students.
"We're a small program, but in the last four years, we've had nine grad students get the NSF, eight students receive the Wenner-Gren, five students receive the Fulbright-Hayes and four the Fulbright," said Tiffiny Tung, associate professor of anthropology and director of graduate studies. In the past few years, students also have won grants from the Ford Foundation, AAUW, PEO, Spencer Foundation, Explorer's Club, Social Science Research Council and Canada Social Science Research Council.
"It's testimony to the energy and creativity our students are bringing to work on questions that granting agencies recognize really matter," said Beth Conklin, chair of the Department of Anthropology.
Tung also credits the department's graduate seminars in research design taught by Tom Dillehay, Rebecca Webb Wilson University Distinguished Professor of Anthropology, and grant writing workshops with Marion Pratt, grants resource officer in the Arts and Science Dean's Office, with helping students prepare strong grant applications.

Keitlyn Alcantara, a fourth-year Ph.D. student embarking on her dissertation research, has won a Fulbright to support bioarchaeological research in Mexico next fall. She'll divide her time between a site in the central Mexican state of Tlaxcala and the Museo Nacional in Mexico City. In Tlaxcala, she'll study the skeletal remains from a culture that, though entirely surrounded by the Aztec empire, remained unconquered until the Spanish arrived. Then she will compare her findings to the Museo Nacional's collection of skeletal remains from the same period found elsewhere. Studying these skeletons will illuminate how centuries of resistance and political isolation affected the community's health, diet and trade.

Emma Banks, a fourth-year Ph.D. student, has won an NSF grant to support cultural anthropological field work in Colombia. Banks' dissertation research examines the relationship between natural resource extraction corporations, which can have greater civic influence than the government in remote areas, and the marginalized communities that live in close proximity to those operations. She will interview residents of La Guajira displaced by the Cerrejón coal mine, as well as mine officials and government representatives, to better understand how these marginalized communities work to influence corporate policy.

Kyle Harper, who will matriculate into the Department of Anthropology's Ph.D. program upon completion of his M.A. at the Center for Latin American Studies, has won a Fulbright to support archaeological research in Brazil. Harper's research centers on Brazil's ribeirinho culture—a mix of indigenous, Portuguese and African cultures living alongside the Amazon River that emerged as a result of the colonial encounter. The formation of this culture has not yet been comprehensively studied. Harper will divide his time between excavations within the Municipality of Gurupá, in the lower Amazon River basin, and laboratory and archival work at the Museu Paraense Emílio Goeldi in the city of Belém.

Beth Koontz Scaffidi, who plans to defend her dissertation this summer, has won a Wenner-Gren Engaged Anthropology Grant to support research benefiting a community where she has previously excavated with Wenner-Gren funds—in her case, a fourth-century burial ground in Peru's Majes Valley. Koontz Scaffidi, a bioarchaeologist by training, will be using the grant for two projects. One is to create a secure collaborative online database that professional archaeologists can use to create a map of sites that have been looted throughout Peru, which will be provided to Peruvian and U.S. officials as they prepare to renew the U.S.-Peru Memorandum of Understanding protecting against the illegal trafficking of pre-Columbian antiquities. The other project is to refine and complete an educational video initially funded with a Vanderbilt Curb Public Scholar grant that features interviews with archaeologists throughout Peru about how looting permanently damages Peru's ability to fully understand its past. The video, which will be subtitled in English and Spanish, will be donated to Peruvian museums, schools and universities.

Toni Villaseñor-Marchal, a first-year Ph.D. student pursuing a specialty in bioarchaeology, has won an NSF Graduate Research Fellowship to support three years of graduate education free of teaching or research assistantships. Additionally, he has won this year's Society of American Archaeologists' Native American Graduate Student Scholarship. That award will fund research into the health and nutrition of indigenous people forcibly resettled from farming villages by the 16th-century Spanish colonial government at Mawchu Llacta, Peru.
"I think we can also see the longer-term effects of those grants," Tung said. "That is, we're placing our students in tenure-track jobs and postdocs." Recently graduated grant winners have gone on to tenure-track jobs at Cornell and UC-Santa Barbara, as well as Mellon postdocs.
"We're thrilled at this long string of successes," Conklin said.