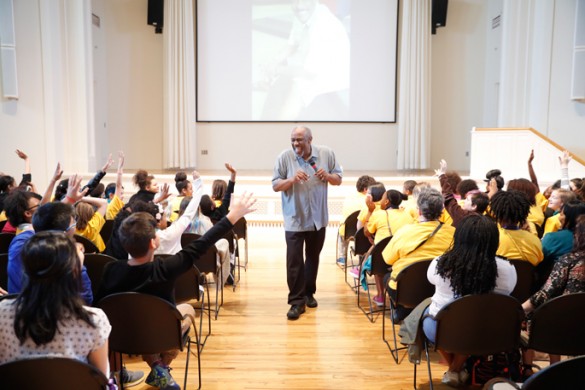 "Look for inspiration everywhere," award-winning children's author Christopher Paul Curtis (The Watsons go to Birmingham—1963; Bud, not Buddy) told Nashville middle school students at Vanderbilt's Wyatt Center on May 19. "Have your ears and eyes open and your antenna up. Observe what's going on around you. Eavesdrop on conversations. You never know where a story will come from."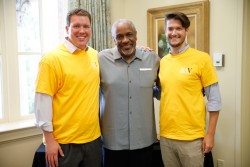 The students are participants of two Vanderbilt reading programs funded by best-selling author James Patterson. The Reading Academy at Vanderbilt (RAV) is a program of Vanderbilt Programs for Talented Youth (PTY) which partners with Creswell Middle Prep School of the Arts. RAV goals include cultivating a love of reading and connecting students with Vanderbilt faculty through weekend and summer courses. Read and Play Saturdays (RAPs) provide free reading materials and Saturday programming for children who live in the Vanderbilt area.
Curtis, a Flint, Michigan, native, went to work at General Motors after graduating high school. The money was good, but he said he soon tired of the repetition and tedium of working in an auto factory. During his breaks, he started writing, and soon discovered he had a gift for storytelling. After writing The Watsons Go to Birmingham—1963, he entered a writing contest hosted by Random House and caught the attention of an editor there named Wendy Lamb. She offered him $4,000 to publish the book. Curtis took his family out to Red Lobster for dinner to celebrate, and he left factory work for good.
"People ask which of my books is my favorite, and I have to say Watsons, because that's the book that changed my life," he said. "It's like that saying, 'If you do what you love, you never have to work again.' That's how it is for me. I love writing so it doesn't feel like a job."
Write every day, have fun, be patient and don't give up. These are the four rules for becoming a successful writer, he said. "Be yourself and don't try to sound like anyone else," he added. "There are things happening to you that aren't happening to anyone else, so write about those things."
Curtis took questions from the audience of about 100 middle school RAPS and RAV students, such as how long it takes him to write and publish a book (one to two years) and how long he spends writing and revising each chapter (70 to 80 hours).
When asked by a student how he feels when someone doesn't like one of his books, he joked, "I've never met anyone who doesn't like my books. Why? What have you heard?"
He added, "I take criticism and praise the same way. You can't take one more seriously than the other."
Each student left with an autographed copy of Curtis' latest book, The Madman of Piney Woods. He is currently in the process of writing two children's books, one of which addresses the water crisis in his hometown of Flint.