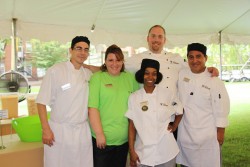 It takes a lot of people working in different roles to make a university run, especially during the fall and spring semesters when classrooms, residence halls and dining locations are full of students.
But things slow down in summer months, and Vanderbilt doesn't need the same level of staffing in student-centered areas like Campus Dining. Many dining employees appreciate the flexibility a partial-year schedule (PYS) offers; they work when school is in session, but have breaks and summers off to spend with school-age children and their families. Others may look for temporary work during the summer months, either off campus or through Vanderbilt Temporary Services (VTS).
This year, encouraged by Human Resources, Campus Dining partnered with Plant Operations and the Laborers' International Union of North America (LIUNA)—which represents some Campus Dining and Plant Operations workers—to offer another option. In a pilot program, some dining employees will change roles and spend the summer working as custodians or gardening assistants, helping Plant Ops prepare for the next school year.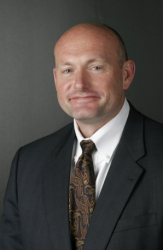 "Summer is the one of the busiest times of the year for the Office of Housing and Residential Education and Plant Ops," says Mark Petty, assistant vice chancellor for plant operations. "We have only 10 weeks to tackle renovation projects and preventive maintenance, while also supporting conferences, thoroughly cleaning and restaging student rooms, and preparing for the upcoming year in general. There is a huge volume of activity, and we are strained to successfully complete all the work. We hope this pilot program will give us the added help we need to accomplish these monumental tasks."
The idea was initially raised during the last union contract negotiation, but much of the planning work was done during April and May. Plant Ops identified the areas they needed help with and, along with Campus Dining, collaborated with HR to think through logistics, draft a memorandum of understanding with LIUNA, and prepare a plan to post and interview for the opportunities.
"The union was very receptive to our proposal," says Cleo Rucker, senior employee relations adviser. "They worked with us to refine how this pilot program and the selection process would work, so we were able to put the pieces in place and get the memorandum approved quickly. They understood that we had to consider some factors in filling the custodial and gardening roles that we don't necessarily think about for dining jobs, like the ability to lift heavy objects.
"We also needed to make sure the employees selected were committed to working the entire summer. The Plant Ops team has a short time to do a lot of work, so it's not possible for these positions to schedule weeks of time off," Rucker continues. "We were very clear about this up front, so employees could consider their summer plans before applying."
Kiley Stokes, assistant director of business services, created a flier to advertise the program, fielded questions, and helped interested employees submit applications. "Our employees responded very positively when we announced the pilot," Stokes says. "[lquote]Beyond those who applied, many more employees expressed appreciation for the effort Vanderbilt is making to help those who want to work during the summer find positions on campus.[/lquote]
"We've worked with VTS, other VU departments and local temporary employers in previous years to try to help partial-year employees find summer employment, and it's nice to be able to offer another great option," Stokes continues. "Our primary goals for the pilot are to help PYS employees who give so much to our students during the academic year and who contribute greatly to making Vanderbilt a special place and, at the same time, to help Plant Ops complete its summer maintenance. We also hope it will help Campus Dining reduce turnover and that these team members will return to their regular dining jobs in August."
Employees selected to participate in the pilot program will keep their regular employment status during the summer, and will continue to accrue flexPTO. All benefits-eligible dining employees can keep their Vanderbilt benefits during off periods by paying their premiums through direct billing, but pilot participants will be able to pay through payroll deduction.
Hopes for the pilot program are high. If things go well this summer, an ongoing program can be negotiated with LIUNA at the next bargaining session.
"We believe this is a three-way win for Campus Dining, Plant Ops and our employees," says Barbara Carroll, associate vice chancellor for human resources. "We're delighted that all the stakeholders were able to come together so cooperatively to find a creative solution and meet multiple needs for the good of the institution."