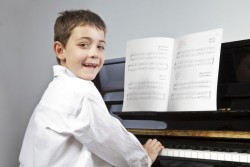 In September, beginning-level piano lessons will be offered at the Blair School of Music at one-half the normal tuition rate for rising second-grade students who enroll through the Piano Pedagogy program. Enrollment will be limited to 10 students.
The students will study with Vanderbilt undergraduate piano majors who will teach 11 weekly lessons. Each weekly lesson will consist of a 30-minute private lesson and a 20-minute group piano lesson, co-taught by a second undergraduate student. (Week one will be a private 45-minute lesson.) The cost for Fall 2016 is $260, which averages to less than $25 per week for a 50-minute lesson.
Piano lesson times will be arranged directly with the undergraduate student. Each young student will be paired with one other student for the group lesson that will precede or follow the individual lesson. Half the lessons will be videotaped and reviewed by Karen Ann Krieger, associate professor of piano, who will supervise all students' progress. All children registered in the pedagogy program will prepare for a recital at the end of the semester (tentatively scheduled for Nov. 18).
Children who wish to continue lessons beyond the fall semester have the option of working with the same student teacher again, when the student's schedule allows, at the special tuition rate for the spring semester (approximately $24 per 30-minute session). The student also may apply to study with a Blair faculty member at the full tuition rate, if space is available. After the Spring 2017 semester, the student must apply to study with a Blair faculty member at the full tuition rate in order to continue at Blair.
Anyone interested in applying for this special program must have a piano. They should call (615) 322-7651 and leave a message for Karen Ann Krieger and/or email her at karen.a.krieger@vanderbilt.edu. (Names are taken on a first-come, first-served basis.)
Lessons will begin the week of Sept. 5, 2016. Registration for these lessons will begin Monday, July 25. After being accepted into the program, if you have questions regarding registration, call Thomas Langmesser, precollege registrar, at (615) 322-7655 or email him.
The Blair School is located at 2400 Blakemore Ave., between 24th and 25th avenues, near Hillsboro Village and the Vanderbilt Psychiatric Hospital. (If you are coming from West End Avenue, 31st Avenue becomes Blakemore.)