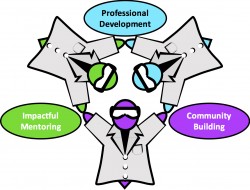 Myriam Diaz Martinez, a fourth-year graduate student in the chemical and physical biology program, has founded an organization called Researchers for Collaborative Success, which offers support, mentoring, relationship-building activities and community involvement for graduate students.
The organization's mission is to "build a community of passionate researchers that continuously strives for their unique successful work–life design." Several of its activities take place on campus.
First, discussion meetings for graduate students take place on Tuesdays from 6 to 7 p.m. in Room AA1119 of the Vanderbilt University Institute of Imaging Science. And on Mondays and Thursdays from 5 to 8 p.m. in 412 Light Hall, the organization offers its "Productivity Room," a place where graduate students can catch up on writing and reading responsibilities that may have been derailed by their research time commitments.
Researchers for Collaborative Success also offers social activities and involvement with the Nashville community, including service opportunities. Starting in late June, for example, graduate students and post-docs will be invited to give talks about their research at two branches of the Nashville Public Library. (Students interested in sharing their research findings through these talks may apply here.)
For more information, visit the Researchers for Collaborative Success website, or contact Myriam Diaz Martinez.