Media Inquiries
Latest Stories
Politics and politicians have never been spared the cartoonist's pen
From Charlie Hebdo to the lampooning of U.S. presidential candidates, political cartoons continue to be a staple of editorial pages. While the rise of digital media—and the decline of newspapers—may have reduced their reach, political cartoons remain one of the most powerful ways to convey an opinion. Or to skewer a politician.
During the heyday of American journalism, Nashville's morning newspaper, The Tennessean, employed several political cartoonists of note. In Journalists' Papers, on permanent view in the fourth-floor gallery of the Heard Central Library, one can see the cartoons of both Tom Little and Charles Bissell. Like the current election year, their take on presidential candidate debates—a new concept at the time—reminds us that the democratic process has always been fodder for satire.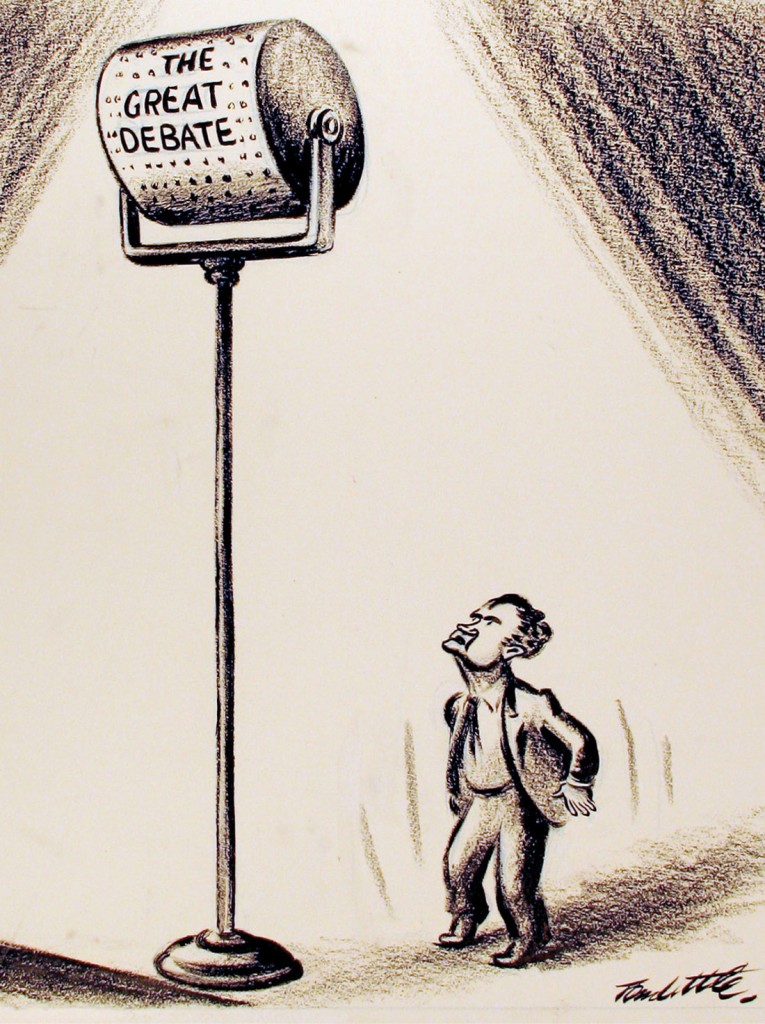 Little (1898–1972) joined the Tennessean staff in 1916 as a reporter. In the early 1920s he left for New York to work on a syndicated strip called "Abner Simp," but soon returned to The Tennessean where he began drawing political cartoons in 1937, and continued until his retirement in 1970. He won the Pulitzer Prize for Journalism in 1957 for a cartoon advocating the use of Jonas Salk's polio vaccine. His work was widely reprinted in The New York Times, The Chicago Sun, Time, Newsweek, and other newspapers and magazines. Bissell (1908–2000) joined the staff of The Tennessean in 1943 and won numerous awards for his work in the 1960s.
Tom Little's cartoon "Didn't Quite Measure Up" (Sept. 29, 1960), above, depicts what was then a new concept: the televised presidential candidates' debate. In September 1960 millions of Americans watched the first-ever televised debate between presidential candidates Richard M. Nixon and John F. Kennedy. The new medium caught Nixon off guard and showed him in poor contrast to the relaxed, confident and handsome Kennedy. When Nixon ran again in 1968, he carefully controlled his television appearances and refused to debate on air, as can be seen in Charles Bissell's cartoon "And maybe catch a chill? … Never!", below.