Media Inquiries
Latest Stories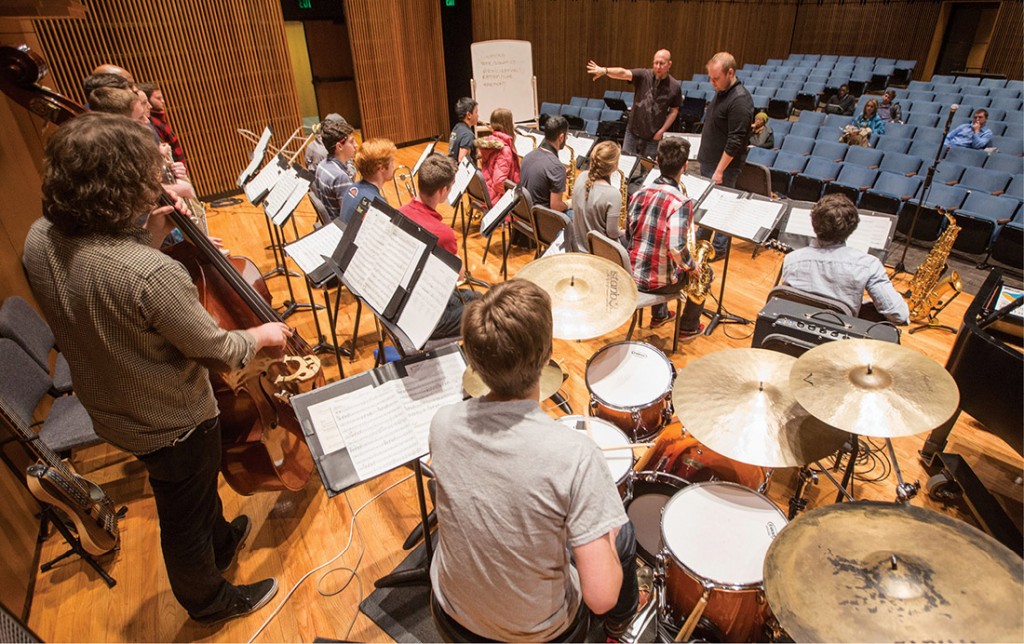 Local music industry fuels expansion of program
Nashville may be best known for country music, but the moniker "Music City" most accurately reflects the proliferation of stellar musicians in town who play all types of music. At Vanderbilt's Blair School of Music, Ryan Middagh, director of the jazz studies program, is taking advantage of Nashville's place at the center of the music industry, using his ties to local musicians to push the quality of Blair's program forward.
"There was room to improve and grow the program, not just in quantity of offerings, but in quality," Middagh says. "The Blair Big Band has been here since 2002. The structure was here; now we're expanding it."
The jazz program most recently added three-time Grammy-winning saxophonist Jeff Coffin of the Dave Matthews Band as instructor of jazz saxophone and Christina Watson as lecturer and director of the newly created Blair Jazz Choir. Other faculty members include Jerry Kimbrough (guitar and precollege jazz jam), Bruce Dudley (piano), and Derrek Phillips (drum set). Roger Spencer, who has directed jazz combos at Blair since 2002, also teaches jazz bass and improvisation. All are busy touring and playing studio sessions in addition to teaching.
"My role in directing the jazz area is to do everything I can to enable our faculty to do what they do best: let their expertise shine through," Middagh says. He also works with other Blair faculty to identify students who have an interest in jazz. "It's nice having colleagues who support and provide students from their studios for our ensembles, who understand the music and recognize its importance for their students' education."
Middagh, an Iowa native, first came to Nashville as a student teacher at the city's Martin Luther King Jr. Magnet High School. He completed his master's at Middle Tennessee State University and a doctor of arts in jazz studies, with a secondary emphasis in composition, at the University of Northern Colorado.
"My background is music education," he says. "One of my goals for students is to prepare them to play in just about any style humanly possible. I appreciate classical music. It informs playing in tune, playing with good tone, playing in time—though time is a different animal in jazz. My job is to teach style. We cover a lot of different styles."
Students not only learn from their instructors at Blair, but also by playing with professionals at jam sessions in a number of local venues, including the Nashville Jazz Workshop, a community center for jazz instruction and performance co-founded by Blair's Roger Spencer.
"My big push has been getting the students out into the community to play with professionals," Middagh says. "The musicians are here, and they not only play jazz well; they play everything well. That's the goal for the students, too."
Beyond adding faculty and course offerings, as well as expanding playing opportunities—including sending a student jazz quartet to tour Colombia during a two-week festival sponsored by the U.S. Embassy this summer—Middagh has created a jazz concentration in the Blair curriculum for interested students.
"We've made a lot of progress quickly," he says, "and there's more to be made. It comes down to building a culture of jazz music."
–Bonnie Arant Ertelt