Finding the inspiration to live a meaningful life is more a "slow, chip-away-at-it process" than a thunderclap of revelation, Senior Day speaker Soledad O'Brien told Vanderbilt's Class of 2016 during her address.
Mixing anecdotes about her parents' courtship and marriage with memories of her early career, O'Brien urged graduating seniors to disregard naysayers like those who told her black mother and white father not to marry and have children in segregated 1950s and '60s Baltimore.
People would spit on the couple as they walked down the street with O'Brien's two older sisters, she said. Her mother's answer? "'We knew America was better than that, and we knew we had a part in making it better.'
"That was her philosophy," O'Brien said.
A prominent broadcast journalist who has done work for CNN, HBO and NBC and now runs her own production company, O'Brien spoke May 12, one day before Vanderbilt's annual Commencement ceremony. Chancellor Nicholas S. Zeppos introduced her and presented her with the Nichols-Chancellor's Medal, Vanderbilt's annual award for a recipient who "defines the 21st century and exemplifies the best qualities of the human spirit."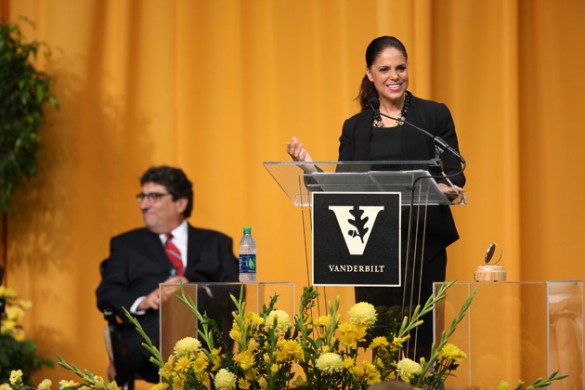 "Her interviews have sparked important and desperately needed conversation about the minority experience, discrepancies in our public education system, and the immigrant influence in reshaping our communities and our culture," Zeppos said.
O'Brien, who started her broadcast career in Boston and also worked in San Francisco, remembered doing local news stories about a supposed reincarnated cat and a windstorm on the Bay Bridge.
"I stood on the Bay Bridge in San Francisco in a wind storm and I told people, 'Do not … stand on the Bay Bridge in a windstorm because it is dangerous,'" she said.
Eventually, O'Brien found more meaning in her job.
"[rquote]I discovered after 15 years my actual passion, which was leveraging the power of a microphone to bring attention to an uncovered story," she said. "It took that long to figure out my dream."[/rquote]
Success has followed. O'Brien has won three Emmy Awards, two George Foster Peabody Awards and an Alfred I. DuPont Award. Through her production company, Starfish Media Group, she contributes content to CNN and Real Sports with Bryant Gumbel on HBO. She has also hosted several specials for the National Geographic Channel.
Like her parents, Vanderbilt graduates would do well to disregard well-meaning but mistaken advice that "kills your joy," O'Brien said.
"The biggest question is, 'What do you care about?' What do you care about?' You have been positioned, Class of 2016, to do some pretty amazing things. But do them in the service of others and I think that you will discover that selflessness is ultimately very much a part of what will make you great."
The Nichols-Chancellor's Medal was established by Edward C. Nichols Jr., JD'70, and his wife, Janice Nichols, in memory of Edward Carmack Nichols and Lucile Hamby Nichols.