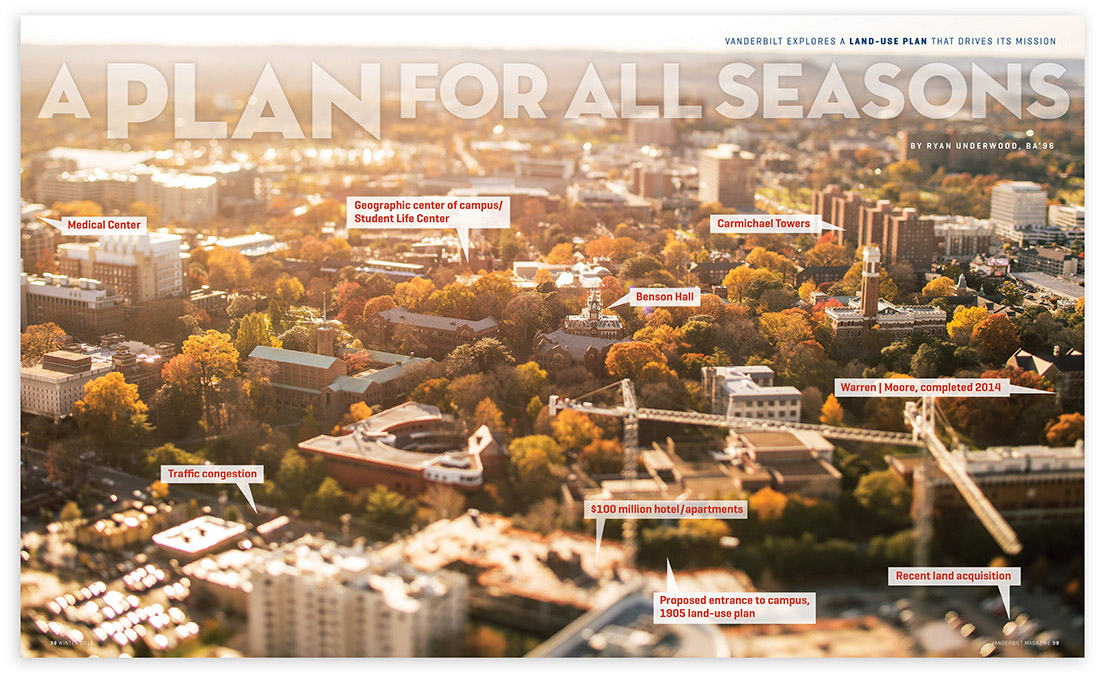 ADDENDA
I have some additional facts to add to the article "A Plan for All Seasons" in the Winter 2016 issue.
First, I was surprised to learn that George Kessler designed the 1905 plan for Vanderbilt that was realized only in the case of Furman Hall. As a student I remember being impressed with its logic and scale when I saw a drawing of it.
Kessler was not only an architect: He was also, or even mainly, known as a city planner or landscape designer. In the 1890s he first gained fame for planning Kansas City, Missouri's park and boulevard systems. Beginning in 1901 and continuing through 1914, Kessler designed the Memphis, Tennessee, Park and Parkway System. His plan for Memphis included two major urban parks (known today as Overton Park and Martin Luther King Jr. Riverside Park) and a loop of landscaped roadway connecting them. In 1909 he designed a plan for Dallas, and went on to design parks and boulevards for many other American cities.
I did appreciate your retelling the Furman Hall myth most of us learned as freshmen, but you left out some of the cleverness. The other half has it that the mistake originated in a New York City architect's office that was designing buildings for both Vandy and Duke, and after the mix-up Duke ended up with a single red-brick building among its gray Gothic stones.
JOHN CROSS, BA'69, Alexandria, Virginia
---
This letter is in reference to your highlighted note on page 37 of the Winter 2016 Vanderbilt Magazine, where you tell the reader about Vanderbilt's relationship to a number of distinguished authors. Some mentioned have minimal connection to Vanderbilt. Exactly how you failed to mention Randall Jarrell, a Vanderbilt graduate [BA'35, MA'39], escapes me—perhaps it was ignorance. I suppose the National Book Award and poet laureate recognition did not hit your radar.
WALTER KURTZ, JD'72, Nashville
---
FUTURE (?) LAB
Vanderbilt has come such a long way in developing its support of environmental efforts and sustainable design from when I was a student, so I was generally pleased to see its efforts continuing with the support of Sterling Ranch ["Future Lab," Fall 2015]. However, I couldn't help but feel the "future" was there in the technology, but missing from the basic design.
The global population is increasingly urbanizing, and current real estate studies show urban land values exceeding the suburbs since the mid-2000s. I was disappointed to see such a stereotypically suburban model of development, and I hope Sterling Ranch and Vanderbilt can promote alternatives for more walkable neighborhoods and less car-dependent urban design in the future.
ERIN FEENEY, BA'07, Hong Kong
---
CONDOLENCES FOR FORCE
EDITOR'S NOTE: In March, Vanderbilt Owen Graduate School of Management student Taylor Force was killed in a terrorist attack in Israel. Chancellor Nicholas S. Zeppos announced a scholarship named in his honor for U.S. military academy graduates attending Owen.
I am sitting in the Tel Aviv sun, maybe 300 feet from where your student, Taylor Force, was struck down. I am so sorry for your loss. I cannot comprehend the feeling of utter and senseless loss for your institution and his friends and family to have such a strong and great person taken from you so suddenly for no reason whatsoever, other than that he was randomly selected by evil to cut his life short.
I pray you will all heal over time, and that Taylor's values and the way he lived his life—willing to sacrifice for others—will give you the strength to move forward, living your lives more fully, giving to others and sharing love and kindness and curiosity, knowing that he is with you. That should be his legacy. I am sure millions of Israelis feel your loss and are sending you the same strength. May his memory be a blessing.
JACK LEVY, Tel Aviv, Israel
---
My daughter is an Owen alumna. She loves her classmates and her alma mater, and she received a merit scholarship to study at Vandy. I intend to pay it forward for those who serve our country, and I call on all to do the same. Semper Fi.
JOANNE MACKEY, Keswick, Virginia
---
I'm very pleased that this talented, fine young man will be remembered by supporting the aspirations of military academy graduates. My sympathies go to his parents and friends.
CYNTHIA SCOTT RIES, Roanoke, Virginia
---
CULTURE CLASH
I am not happy with the liberal direction in which Vanderbilt has been taken by progressives. Vanderbilt was a university founded by those with Christian principles but has lost its way by following the prevailing culture—so sad!
CORNELE H. KERSEY, BA'53, Cleveland, Tennessee
---
PARENT'S GRATITUDE
Vanderbilt gives so many deserving young people an opportunity of a lifetime. Thank you to all who support their scholarship programs.
BECKY CLABOUGH, Knoxville, Tennessee
---
ROBERT BIRKBY REMEMBERED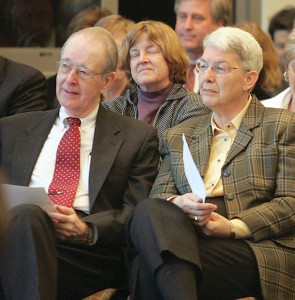 EDITOR'S NOTE: When news arrived that longtime Vanderbilt political science professor Robert H. Birkby died March 14, former students shared tributes online, which we have excerpted below. Read Birkby's obituary.
Bob Birkby was the most important teacher I had as an undergraduate in the mid-1960s. While he was tough, both in manner and in analysis, he was also fair. When I entered the first of his courses, I had some vague notion about going to law school. When I left his last class, I knew that was where I was headed.
My favorite postgraduate experience with Bob illustrates how he held on to students' names and histories. About 15 years ago I was on campus for Homecoming and decided to stop in on Bob, whom I hadn't seen in a while. I trudged down to Calhoun, learned he was teaching class, and was directed to the appropriate room. After listening for a bit through the closed door and confirming that he was indeed teaching, I faced an existential moment: Should I go in and interrupt his class or wait until he was finished? I put on my big-boy pants, reminding myself that I was a tenured full professor of law—and, anyway, the statute of limitations would prevent his changing my grade.
I walked into the classroom, facing about 30 students who were understandably stunned to see an old man walking into the master's class. Without missing a beat or stopping a sentence, Birkby saw me out of the corner of his eye and spoke out of the side of his mouth for all to hear: "Sit down and have a seat, Dean Kurtz. Maybe you will give better answers than you did lo, those many years ago." This, having not seen me for at least 10, if not 20, years.
I was one of the several generations of Vanderbilt students to have been blessed by having crossed the path of Bob Birkby. He taught me in more ways than I can count. Our school will never be quite the same. May he rest in peace knowing that he, in the words of Henry Adams, "affect(ed) eternity."
PAUL M. KURTZ, BA'68, JD'72, Athens, Georgia
Paul Kurtz is a former associate dean and professor at the University of Georgia School of Law. He retired in 2013.
---
Bob Birkby must have educated more "lawyers of the future" than any other Vanderbilt professor outside of the law school. His Constitutional Interpretation and American Political Thought classes had a fearsome reputation. Dr. Birkby was VU's version of Kingsbury of The Paper Chase, Dean Roscoe Pound and General Patton, rolled into one. But it is no exaggeration, nor trite sentimentality, to say that the man had a heart of gold. If he thought a student cared about his or her coursework, showed integrity, and demonstrated at least a reasonable level of aptitude, then one had no better mentor—nor more challenging teacher or coach!—than Bob.
I'll never forget sitting next to a friend in American Political Thought, taught at the then-seemingly ungodly hour of 8 a.m. on Fridays, in spring 1982. My friend was doing a decent job explaining some aspect of the Federalist Papers, yet he wondered if, during the course of his explication, he had just mangled an important nuance. He cast a questioning look in mid-explanation toward Birkby, who—leaning on his desk, in mid-puff of one of his daily cigarettes—smirked and said, "Just keep digging: You're almost six feet under." Getting a solid B in Professor Birkby's classes was deemed a significant accomplishment; to get an A was rare and a significant achievement, indeed.
Of all the teachers and professors in my life, Bob Birkby was the toughest, and the most memorable, and certainly the most formative in terms of my future profession. I think the challenges he set before his students were of the very best kind—the kind that drive you to excel.
My condolences and deepest sympathies go to his family, his friends and longtime colleagues, and to other students who will not soon forget the impact and memories of this remarkable man.
NICK MCCALL, BA'83, Knoxville, Tennessee
---
Robert Birkby was great. When I decided I wanted to get serious about academics, my first step was to take his class at 8 in the morning. He explained that he scheduled early morning classes to weed out the lazies. He was demanding but very gracious, in every way. He also wrote a recommendation helping me get into grad school. In a sense, my decision to take his class changed my life. Later, after I was a college political sciences professor, I contacted him a few times to say thanks. His response was always wry and modest.
CHARLIE EUCHNER, BA'82, Hamden, Connecticut
---
MORAL SUPPORT
As parents of a recent graduate, we love this magazine. Keep up the great work.
JOANNE M. MONDUL, St. Charles, Illinois
---
I enjoy your magazine and look forward to receiving each issue. I read it cover to cover. Please consider [my gift to the voluntary subscription program] an investment in its future.
TRACY BRODERICK, Golden, Colorado
---
Thanks for continuing GayNelle Doll's excellent work as editor. I enjoy every issue I receive.
ELAINE GOLESKI, MA'80, Jacksonville, Florida
---
We welcome your comments in response to content of the magazine. We reserve the right to edit for length, style and clarity. Mail signed letters to Ryan Underwood, editor, Vanderbilt Magazine, PMB 357737, 2301 Vanderbilt Place, Nashville, TN 37235-7737; or send email to vanderbiltmagazine@vanderbilt.edu. Comments posted through social media or to the magazine's website also may appear in the print edition of the magazine.
---