Provost and Vice Chancellor for Academic Affairs Susan R. Wente announced today the selection of Vanderbilt University's Quality Enhancement Plan (QEP). Design as an Immersive Vanderbilt Experience (DIVE) will take effect in fall 2017 as part of Immersion Vanderbilt, a centerpiece of the Academic Strategic Plan. DIVE is intended to advance student learning and will be assessed for five years as a component of Vanderbilt's reaffirmation of accreditation by the Southern Association of Colleges and Schools Commission on Colleges (SACSCOC).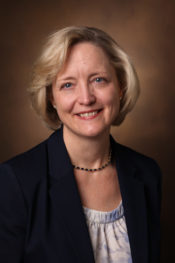 "I am excited to endorse the selection of DIVE as Vanderbilt's Quality Enhancement Plan," Wente said. "As part of our SACSCOC reaffirmation, the program will move the university forward in creating new Immersion Vanderbilt opportunities for students in the area of design and innovation and will foster trans-institutional collaboration. The soon-to-open Innovation Center will be a key resource for the program."
DIVE will provide students with the opportunity to become immersed in human-centered design—an innovative methodology to develop solutions to real-world problems through listening and empathy, brainstorming and prototyping, and testing and feedback. Following a detailed overview of design thinking in an Introduction to Design course, students will work in small interdisciplinary groups to solve complex challenges under the mentorship of faculty with expertise in human-centered design.
"DIVE fills an existing need on our campus by leveraging the unique talents of students from across the four undergraduate schools while simultaneously fostering their ability to work in collaborative and dynamic teams," said Cynthia J. Cyrus, vice provost for learning and residential affairs. "In addition to facilitating teamwork, DIVE students will learn a new and valuable technique to approach the world's complexities."
Albert "Will" Berger, a rising sophomore and co-author of the DIVE proposal, shares the excitement surrounding the DIVE announcement.
"DIVE offers students the chance to build confidence in their creative abilities," he said. "Some students don't necessarily see themselves as 'creative types,' and DIVE aspires to change that. We want to combine a 'no-wrong-answers' attitude with an environment where students can become truly playful. [lquote]Students will have the opportunity to collaborate on projects that can leave a lasting legacy for both Vanderbilt and the greater community."[/lquote]
DIVE was selected after a yearlong consultative process that engaged constituents from across the university. Following Wente's call for proposals in September 2015, the QEP Topic Selection Committee received 44 proposals from students, faculty and staff for new immersion programs. Three finalist proposals were chosen and circulated for campus community feedback, which the QEP Topic Selection Committee used to inform its final topic recommendation to the provost.
"Working on (the DIVE) proposal team was one of the most rewarding and enjoyable experiences I have had at Vanderbilt," said Lori Troxel, DIVE proposal team chair and associate professor of the practice of civil and environmental engineering. "We all agreed early on that we wanted to create a program that would help the entire campus—students, faculty and staff—gain creative confidence to solve problems in both the Nashville and Vanderbilt communities. Valuing diversity and caring for the community are two needs that we believe will be met through working on diverse interdisciplinary teams."
"I appreciate the tremendous efforts of all of the faculty, staff and students who contributed to the QEP topic selection process," Wente said. "It was difficult selecting just one for the formal QEP work. I expect that all of the QEP proposal ideas will contribute to the Immersion Vanderbilt program and other important campus initiatives, including the other two finalists, the Engaged Scholars Program and the Intercultural Agility proposal."
QEP work will continue this fall when a proposal development working group will collaborate with campus constituents in order to create a comprehensive implementation and assessment plan for DIVE.