Obituary: Phila Rawlings Hach, BS'49, Belle of Biscuits
by
Missy Pankake
May. 12, 2016, 4:20 PM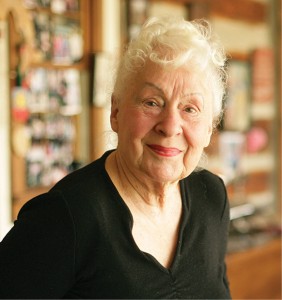 Phila Rawlings Hach, one of the grande dames of Southern cooking, died Dec. 2, 2015, at the age of 89. A true ambassador who harnessed the power of food to bring people together, she was the only person to cook for the United Nations during its visit to Nashville in 1976.
With her home economics degree from Peabody College in hand, Hach pioneered cooking on television in the South as host of Kitchen Kollege from 1950 to 1956 on WSM-TV in Nashville. At the same time she was balancing a career as a flight attendant for Pan American and American airlines, creating one of the first cooking manuals for the aviation industry. While traveling internationally she found opportunities to learn new cuisines and techniques by simply walking into the great kitchens of the Savoy in London and the Hotel Georges V in Paris and asking to cook along.
She married Adolph Hach in 1955 and turned to catering, restaurants and inn-keeping. In 1964 they opened Hachland Hill Inn in Clarksville, adding Hachland Hill Vineyard in 1984 near Joelton. The inn closed in 2005, but their son, Joe, continues to operate the vineyard.
In 1976, Tennessee Gov. Ray Blanton and Nashville Mayor Richard Fulton persuaded 101 permanent members of the U.N.—along with 1,600 additional dignitaries—to pull up stakes in New York and come to Nashville for a visit. They turned to Phila Hach to prepare the enormous luncheon.
The epitome of old-school Southern charm and cooking, Hach presided over legendary dinner tables that included celebrities and statesmen, from Oprah Winfrey to Henry Kissinger. She also
counted early food icons like Julia Child and Duncan Hines as good friends. During her lifetime she published 17 cookbooks, including the first ones written for Cracker Barrel restaurants.
In 2012 she partnered with Nashville's International Center for Empowerment to teach, through food, Kurdish refugees from Iran and Iraq.
Southern food writer Betty Fussell summed up Hach's legacy: "What the Grand Ole Opry did for country music, she has done for Southern food, spreading the gospel of simple country cooking in a seductive Tennessee voice that has drawn the world to Nashville."
She is survived by her son, sister, brother and three grandchildren, including Joseph Karl Hach Jr., BA'13.
—JIM MYERS, WITH STAFF REPORTS
---