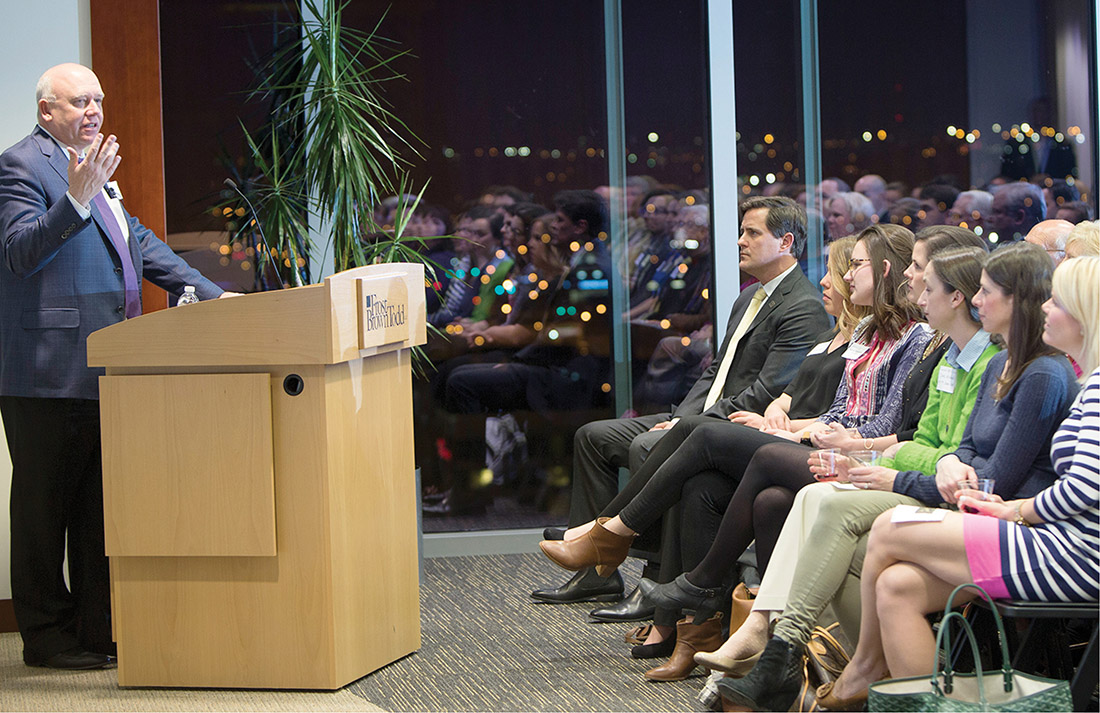 Vanderbilt alumni share a passion for lifelong learning and often request educational programs. The Alumni Association is responding by sponsoring more Commodore Classrooms events in chapter cities.
Commodore Classrooms feature Vanderbilt faculty, and sometimes alumni, who lead discussions about a variety of topics. "They are increasingly popular with alumni of all ages," says Keith Ikard, MBA'03, Nashville Vanderbilt Chapter president. "We see them as a great opportunity to continue our love for learning long after completing our Vanderbilt degree."
This spring John Geer, the Gertrude Conaway Vanderbilt Professor of Political Science, presented his expertise about the 2016 presidential election to the Cincinnati and Nashville chapters. Geer also serves the university as vice provost for academic and strategic affairs.
"We were extremely lucky to have Professor Geer speak," Ikard says. "He has written five books, comments nationally on presidential politics, and the timing with the 2016 election was perfect. He receives invitations from many chapters."
The Alumni Association plans to host more than 40 Commodore Classrooms in chapter cities across the country during the 2016–17 year. Topics will include the 2016 presidential election, art exhibitions, theater performances, innovations in technology and groundbreaking research.
Ikard strongly recommends attending any of these events. "As Vanderbilt alumni we have access to some of the best college professors on the planet," he says. "It is a wonderful gift that the university will fly them to your city. Take advantage of it."
Commodore Classrooms for a specific chapter can be found on chapter websites at vuconnect.com/chapters.
—MATT ANDERSON
---