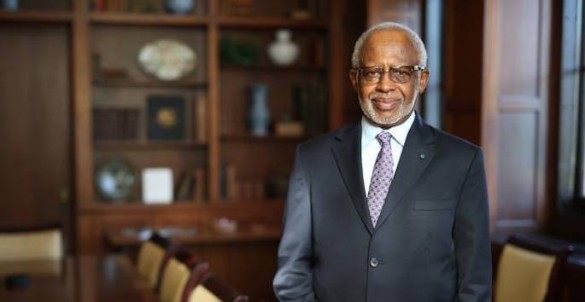 George C. Hill, Vanderbilt University's vice chancellor for equity, diversity and inclusion and chief diversity officer, was awarded an honorary doctor of science by Cooper Medical School of Rowan University (CMSRU) in Camden, New Jersey, May 9. Hill, a Camden native, is a founding member of the CMSRU board.
"[rquote]Dr. Hill is a brilliant researcher and a great champion for diversity," said Dr. Paul Katz, founding dean of CMSRU. "As such, we are proud to recognize him with an honorary doctor of science."[/rquote]
Hill earned his bachelor's degree from Rutgers University-Camden, his master's degree from Howard University and his Ph.D. from New York University.
In December, Hill became Vanderbilt's first vice chancellor for equity, diversity and inclusion and chief diversity officer. He reports directly to Chancellor Nicholas S. Zeppos and serves on the chancellor's senior management team. Hill is responsible for advocating for institutional change at Vanderbilt, working with university stakeholders to set goals and ensure accountability, and confirming that diversity efforts are coordinated throughout the university.
Hill is the Levi Watkins Jr., M.D. Professor Emeritus in Medical Education and distinguished professor emeritus in the Department of Pathology, Microbiology and Immunology at Vanderbilt. He served as assistant vice chancellor for multicultural affairs and special assistant to the provost for health affairs from 2011 to 2012. From 2002 to 2011, he was the first associate dean for diversity in medical education at Vanderbilt School of Medicine.
Prior to joining Vanderbilt's School of Medicine in 2002, Hill was a professor of microbiology and vice president for sponsored research at Meharry Medical College, where he also served as dean of the graduate school, director of the Division of Biomedical Sciences and associate vice president for international programs.
Hill's research is in the field of molecular biology and the biochemistry of African trypanosomiasis, commonly known as sleeping sickness, a debilitating illness brought on by the bite of the tsetse fly. He has received extensive support from the National Institutes of Health, the National Science Foundation and other federal agencies. He earned the Seymour H. Hutner Prize for Research from the Society for Protozoologists as well as election to the Institute of Medicine of the National Academies.
Hill is among six individuals being recognized with honorary doctorates during Rowan University's five-day Commencement celebration. Other honorees include astronomer and educator Derrick Pitts of the Franklin Institute, businessman and philanthropist Robert O. Carr, New Jersey State Sen. Fred H. Madden Jr., Public Service Enterprise Group Nuclear President and Chief Nuclear Officer Robert Braun, and music educator John Beck.