MyVU has profiled a dozen members of the Class of 2016 who embody Vanderbilt's missions of inclusion and community. Representing a diversity of backgrounds and experiences, they've pursued diverse interests at the university. We're featuring their stories in the lead up to Commencement on May 13.
Sam Reilly does some of his best thinking when he's out for a run with his Vanderbilt cross-country teammates. It is one of the rare moments in his busy schedule when he can stretch his mind along with his legs.
"That's where a lot of my ideas come from," the Atlanta native said. "It's a good opportunity just to talk and think."
It was during one such run as a junior that Reilly mentioned an idea he had been pondering: a social media app that would tap into the growing community of specialty "third wave" coffee drinkers like himself, who appreciate the beverage for its artisanal qualities—from the varietal of bean and growing region to the roasting and brewing processes.
A history and political science major, Reilly did not have the technical expertise to create the app himself, but as he laid out his vision to teammate and engineering student Andrew Bachman, BS'15, it soon became clear that they could use their complementary skill sets to develop the concept together. Their collaboration resulted in Fika ("FEE-kah"), a social coffee journal app that takes its name from the Swedish word for "coffee break."
"If it weren't for Andrew, the idea would probably still be languishing in my head," said Reilly, Fika's co-founder and CEO. Bachman, now with Microsoft Corp., is Fika's co-founder and chief technology officer.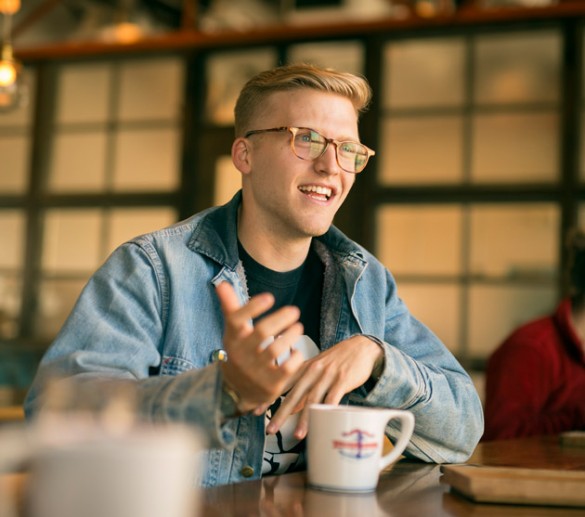 Fika lets users search for cafés in their area and connect with others in the community through check-ins and coffee ratings. The app also provides a news feed for those interested in learning more about the beverage. Some of that information draws upon the knowledge Reilly gained as an intern with Vanderbilt's Institute for Coffee Studies, a multidisciplinary research center dedicated to understanding coffee production and consumption.
"[rquote]That experience opened my eyes to the production side of the industry," he said. "I learned just how much goes into a great cup of coffee."[/rquote]
After graduation, Fika will become a side project as Reilly plans to teach in East Nashville as part of the Teach for America program. Ultimately, he wants to attend law school and then pursue a career in social justice and perhaps even politics. "Fighting for equality—that's my No. 1 thing," he said.
Wherever Reilly's passion takes him, it's fair to say that he will continue building community ties one way or another, and coffee likely will remain somewhere in the mix. If not via a smartphone app, then maybe through a more time-tested approach—sitting across the table, finding common ground over a delicious cup of joe.
Video produced, shot and edited by Zack Eagles and Amy Wolf.