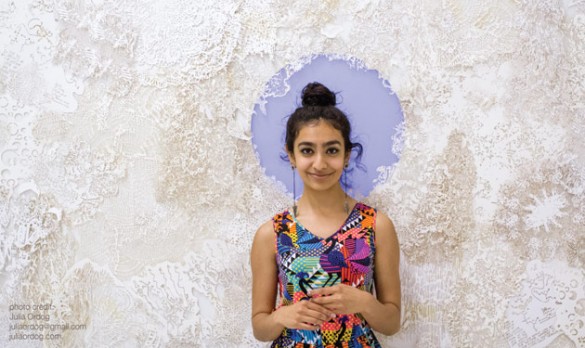 Vibhuti Krishna, a senior from Solon, Ohio, is the recipient of the Vanderbilt Department of Art's Margaret Stonewall Wooldridge Hamblet Award for 2016. As this year's Hamblet winner, she will receive $25,000 for a year of art research and travel culminating  in a solo show at Vanderbilt in one year.
Krishna's installation depicts "wellness" using laser-cut paper, sand and LED lights.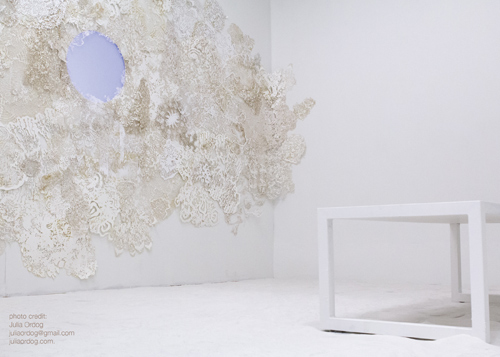 "In Sanskrit, prana means life-force, with specific respect to breath," Krishna writes of the inspiration for her work. "It is concepetually analogous to qi in ancient China, or pneuma in ancient Greece. Wellness in 'traditional medicine,' a term that applies to prescientific forms of medicine, is inextricably linked with a balanced life force that flows through the body. Wellness is achieved through meditative, ritualistic practice and is beginning to resurface as an integrative approach to health."
The Department of Art has supervised the awarding of the Hamblet prize to senior art majors since 1984. The award was established by Clement H. Hamblet in honor of his wife, whom he met while she was studying abroad. View a list of past recipients.
Lucy Rahner, a senior from Cincinnati, Ohio, is the recipient of the Department of Art's Merit Award and a $10,000 prize.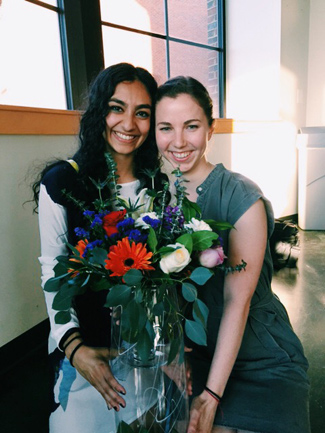 Rahner's charcoal drawings aim "to make people feel human and experience the full reality of their existence," she writes. "The work will communicate the transcendental elements of truth, beauty and goodness while also respecting the way humans are grounded in a material world. The idea of 'sacramentality' permeates the work—that is, the notion of material things expressing unseen realities."
Krishna's and Rahner's award-winning work is on display as part of the Department of Art's Senior Show 2016. The exhibition can be viewed Monday through Friday from 9 a.m. to 4 p.m. through May 10 in Space 204, the second-floor gallery at the E. Bronson Ingram Studio Art Center, located at 25th and Garland avenues on the Vanderbilt campus.
Other graduating art majors exhibiting work include David Brandon III, Jeffrey Gao, Lucy Gonzalez, Jacob Lee, Michael Oberti, Julie Choi, Morgan Pinkleton, Lisa Valcarenghi and Diana Zhu.
The jurors for this year's Hamblet Award competition are all distinguished artists and educators. This year's jurors included Lisa Bukawsky, professor of art, Sam Fox School of Design and Visusal Arts, Washington University in St. Louis; Soo Sunny Park, chair of the studio art department, Dartmouth College, Hanover, New Hampshire; and Greg Pond, professor of art and department chair, Sewanee: the University of the South, Sewanee, Tennessee.
For more information, contact the Department of Art at (615) 343-7241 or visit www.vanderbilt.edu/arts.