MyVU has profiled a dozen members of the Class of 2016 who embody Vanderbilt's missions of inclusion and community. Representing a diversity of backgrounds and experiences, they've pursued diverse interests at the university. We're featuring their stories in the lead up to Commencement on May 13.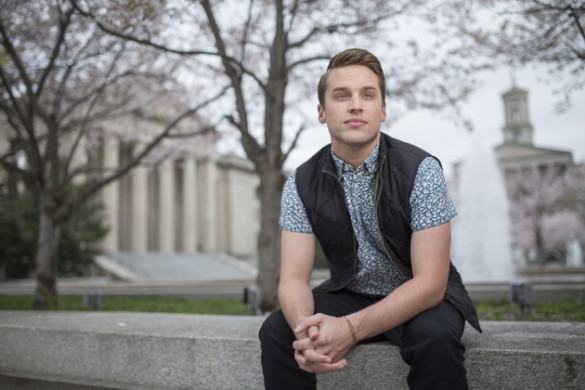 In his four years at Vanderbilt, Connor D. Henderson has become a strong advocate for expanded campus space and resources for student productions. Some of his favorite memories are of cultural showcases by the Vanderbilt performing arts community—Café con Leche, Diwali, the Asian New Year Festival—filled with music, dance and food.
"These events attract thousands of students, bringing together so many different kinds of people," he said. "[rquote]Through the performing arts, diverse students actually begin to talk to and learn from each other."[/rquote]
Henderson belongs to three of the university's oldest theater groups—Original Cast, Vanderbilt Off-Broadway and Vanderbilt University Theatre. He took part in the latter's production of How to End Poverty in 90 Minutes (with 179 People You May or May Not Know). "VU Theatre took a risk with this nontraditional show, inviting the audience to join the actors' discussion on what poverty actually looks like in Nashville," he said. "We received excellent reviews and donated more than $5,000 to local nonprofits working to end poverty."
Henderson considered majoring in vocal performance, but his interest in human rights and social justice deepened after becoming an Ingram Scholar. During the summer of 2013, he began interning with the Oasis Center, a Nashville nonprofit offering safety, support and guidance to at-risk teens. He helped to build a curriculum for Students of Stonewall, a program that helps LGBT youth learn to advocate for their needs with the Metropolitan Nashville government and the city in general.
"I became an adviser for the Oasis Center's Camp Anytown, which is open to teens from all walks of life who want to become anti-bigotry and anti-racism leaders in their schools and communities," he said.
Henderson learned through his community service that LGBT youth in Tennessee are at greater risk for incarceration. This led to his second Ingram summer service project—working with Lisa Guenther, associate professor of philosophy, on the design of an upcoming exhibit documenting the experiences of young people who have been imprisoned.
Henderson studied for a semester in Copenhagen, Denmark. While there, he interned with a refugee advocacy organization assisting those seeking political asylum for persecution based on their sexuality and/or gender identity.
All of these immersive experiences helped shape his course selections within the College of Arts and Science. "I received permission to design an interdisciplinary major in social justice and human rights, with much inspiration and guidance from Julia Fesmire, senior lecturer in English and women's and gender studies," he said. "In general, the major is a combination of political science, economics and sociology."
After graduation, Henderson plans to attend law school to continue his global focus on helping restore human rights for those who are marginalized within their communities.