MyVU has profiled a dozen members of the Class of 2016 who embody Vanderbilt's missions of inclusion and community. Representing a diversity of backgrounds and experiences, they've pursued diverse interests at the university. We're featuring their stories in the lead up to Commencement on May 13.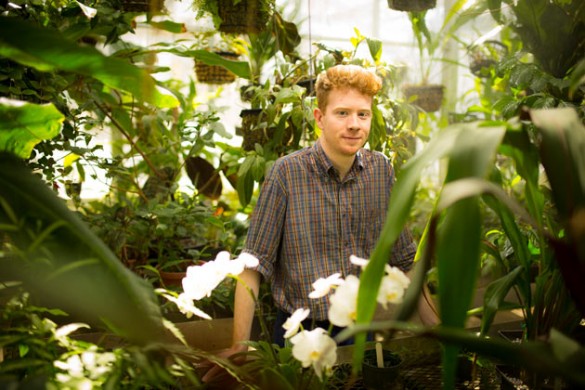 On Leap Day—Feb. 29—Blair School of Music senior Jack Coen took a leap of faith.
That night Coen, a composition and theory major, premiered his capstone project Folk and Flora—a song cycle based on flowers and how people relate to them—in Sarratt Cinema to a full house. By the end of the performance, it was clear from the standing ovation he received that Coen's work had connected with the audience.
"I was able to overcome the pressure by focusing on the process and remembering that it ultimately wasn't about producing something of a certain quality, but rather enjoying the process of putting together a show," he said.
Gaining the experience of producing a show—in all its facets—was part of what Coen planned for when he began the project. He not only wrote the music and lyrics for Folk and Flora, but also created a documentary film about people and plants that served as the "book" to tie the songs together. He arranged the music, cast the singers, directed the production, assembled and conducted the pit musicians and played the piano.
What started as an excuse to study the lyrics of Stephen Sondheim evolved into an immersion project showcasing some of Coen's favorite things. Growing up in Croton-on-Hudson, close to New York City, made it easy to experience professional theater from an early age, and he's been involved with theater performance since high school.
"Every birthday or Christmas, there was a gift of tickets for a Broadway show," he remembers. "Whenever there was a Sondheim revival on Broadway, I would rush to see it."
An interest in plants came about early as well. "I would always attend nature camps growing up, and I remember having a vegetable garden when I was 10 or 11. From there I started getting small houseplants, and that led me to growing orchids," said Coen, who grows Phalaenopsis and Oncidium orchids in his dorm room.
Coen, a piano and organ minor, will work as a director for a children's musical theater camp this summer following graduation. After that, he plans to freelance in New York City, joining an active group of Blair alumni who are making the area their base for work. "[rquote]I'm going to take whatever comes my way and be open to opportunities," he said.[/rquote]
Whatever he does in the world of musicals, Coen knows that Folk and Flora was an experience from which he learned as much about himself and trusting his performers as he did about putting on a show.
"No piece is ever really completed," he said. "A composition is a living, breathing thing, and shows are always changing. If I wanted to produce Folk and Flora elsewhere, I would have to rework it quite a bit. But the fun of it is that you have to keep doing it. It's never finished."