Watch live streaming video of Senior Day May 12 and Commencement May 13 on the Vanderbilt homepage >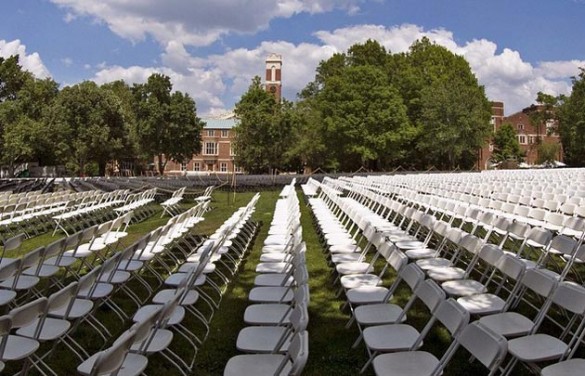 Vanderbilt University's Class of 2016 will get advice from Chancellor Nicholas S. Zeppos and journalist Soledad O'Brien during Commencement and Senior Day activities May 11-13.
The chancellor will address the graduating class during Commencement on Friday, May 13. O'Brien, a television journalist and philanthropist, will receive the Nichols-Chancellor's Medal on Thursday, May 12, before she addresses graduates as part of Senior Day.
Commencement begins at 9 a.m. on Alumni Lawn (or in Memorial Gym if there is inclement weather). Zeppos will deliver his parting message to students and their friends and families before Provost Susan R. Wente joins him to confer undergraduate degrees. Those receiving graduate and professional school degrees will leave Alumni Lawn for degree ceremonies elsewhere on campus.
About 2,900 students are expected to attend Commencement, with an estimated 1,730 receiving undergraduate degrees and about 2,100 getting graduate degrees.
For those who prefer to watch indoors, the Commencement ceremony will be broadcast live on campus in Sarratt Cinema, Neely Auditorium and in Rand Dining Center. For those who cannot make the trip, video of the ceremony will be streamed live on the Vanderbilt homepage, YouTube and for the first time, Facebook Live.
The Party, an annual dance for graduates and their families, takes place from 9 p.m. to midnight Wednesday, May 11, on the Commons Center Lawn. Charles Esten, an actor and musician who is cast as musician Deacon Claybourne on the television show Nashville, will provide music, as will the band SIXWIRE from the same show. The Downtown Band will follow with music for dancing. Tickets are $20 in advance, or $25 at the gate. Each graduate gets one ticket for free. .
Senior Day is Thursday, May 12. O'Brien will speak in Memorial Gym beginning at 11 a.m., after Zeppos confers her with the 2016 Nichols-Chancellor's Medal. The prize, endowed by Vanderbilt Law School graduate Ed Nichols and his wife, Janice, in honor of Edward Carmack Nichols and Lucile Hamby Nichols, is given annually to an individual or individuals who define the 21st century and exemplify the best qualities of the human spirit.
O'Brien has won numerous Emmy awards for her reporting on an earthquake in Haiti and the 2012 presidential election. Her company Starfish Media Group is dedicated to probing issues like race, class, wealth, poverty and opportunity.
O'Brien's Vanderbilt talk is titled "Giving 'Til it Helps: How Covering War, Tragedies and Natural Disasters Taught Me the Value of Giving."
Later on Senior Day, four Vanderbilt faculty members will conduct hour-long seminars for graduates, families and guests. Topics include digital games and education, caves as a source of anti-cancer drugs, and 19th-century American classical music. The seminars will take place in Wilson Hall.
Graduates and guests attending Commencement are invited to share their Commencement experience using social media by tagging tweets, photos on Instagram and Facebook posts with #VU2016. All of the social media activity surrounding Commencement – tweets, posts, photos, videos and more – will be collected on Vanderbilt's Get Social website.