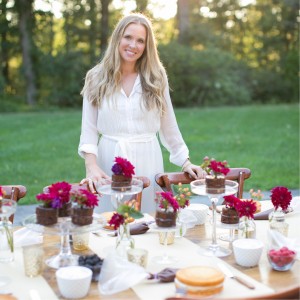 When Abby McLucas Larson, BA'01, launched her wedding blog, Style Me Pretty, in 2007, she followed the advice given to her by John Sloop, associate provost for digital learning and one of her communications professors at Vanderbilt. "He was encouraging our class to walk on the grass rather than on the sidewalk," Abby explains. "He said, 'Carve your own path, make your own way, just for today.' That is what I set out to do, and is what I encourage brides to do when planning their weddings."
What began as a basic Typepad blog with just six readers has grown into a lifestyle site with 5.6 million followers on Pinterest, 2.7 million likes on Facebook, and a devoted following on Instagram and Twitter. With the help of her husband, Tait Larson, BS'99—who majored in computer science and mathematics at Vanderbilt and earned a master's in computer science from Stanford—Abby has built a site more popular than Brides.com or MarthaStewartWeddings.com. AOL bought the majority share of Style Me Pretty in 2012, but Abby and Tait remain as president and CEO, overseeing the creative and technical aspects of the site, respectively, as well as a staff of 26. Having showcased nearly 20,000 weddings since its launch, the Larsons, who have three young children, have learned a thing or two about how to personalize the big day.
---
1. Start with a perfect date night.
Open a bottle of wine with your betrothed, and brainstorm what your perfect date would look like. "Think about the music you would listen to and the kind of flowers you would want to get," Abby says. "Think about the kind of day that would feel really magical to you. Start to understand what romance means for both of you and how this perfect night looks to you. Make that the soul of your wedding."
2. Embrace tradition, but be open to new ideas.
Vanderbilt grads tend to like tradition, Abby says. "When we think about weddings, it usually involves dancing to Donna Summer songs, eating surf and turf, and wearing the white dress." But the trappings of a traditional wedding aren't necessary, she says. "We can throw all of that away, while still nodding to etiquette. Some examples would be hiring a Spanish guitarist or serving a family-style dinner. You can offer mojitos instead of champagne. Have some fun."
3. Make the most of tiny details.
"It's the tiniest of details that really sets your wedding apart," says Abby. If you love food, give your guests local olive oils or jams. If you're into music, make a mix tape. "From the invitations to the wrap around your bouquet that holds a photo of your grandmother, to the note you stitch into your groom's jacket pocket—those little stamps, those little whispers threaded through your wedding are what make it yours," she says. "Those details are what will distinguish your wedding so that when you watch your wedding video 10 years later—which Tait and I still do—you'll see that it's all you. The details can be very quiet, but they will make you feel comfortable in your own skin and remind you the day is about the two of you."
4. Get your guests to join in on the fun.
"The millennial version of this would be to create a wedding hashtag," explains Abby. "That will bring your whole wedding together as a community. Plus, it's a great way to collect all the photos your friends take, and it gives you a place to look at your pictures." If social media isn't your thing, give your guests Fuji instant cameras, she suggests. "Your photographer is there for candid, gorgeous moments, but she won't get much of the silly and crazy, or the pure joy, so sprinkle some cameras around."
5. Reuse your decorations.
Yes, weddings are really expensive. And part of the expense comes from your decorations. "So why not make the decor pull double duty? Use a series of mismatched empty photo frames as a backdrop at your altar, and then reuse them at home," Abby says. "Signage, artwork, pillows and rugs are big in weddings right now. Chandeliers are really popular, too. You can incorporate them at the wedding and then bring them into your home afterward so that they become keepsakes."
---
Text by Elizabeth Cook Jenkins, BS'99
Illustrations by Margarete Gockel
---