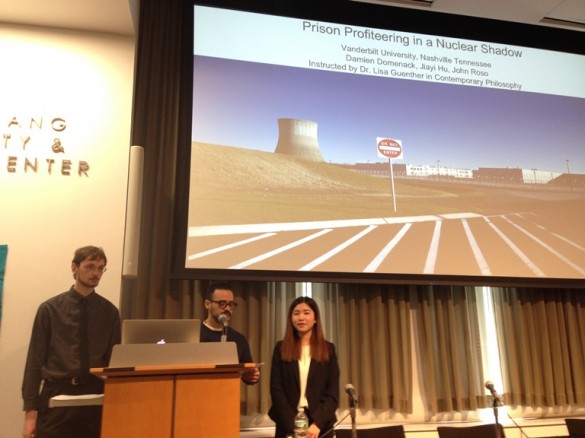 Vanderbilt University students partnered with a coalition of 500 college students and community organizers from 19 cities to launch States of Incarceration, the first national traveling multimedia exhibition and coordinated public dialogue to explore the history and future of mass incarceration in the United States. In spring 2018, the exhibition will travel to Nashville.
The exhibition and project, the culmination of two years of planning and discussion among the communities, is a national public reckoning with one of the most pressing issues facing the country. Using many tools of truth and reconciliation processes, the 20 communities explored the deep historical roots of incarceration, shared personal stories related to the issue, and strategized ways of enacting policy change.
The exhibition and project launched April 14–16 at The New School in New York City and will travel to the 19 other communities that created it. In each community the exhibition and project will focus on an issue of incarceration unique to that community; The New School exhibition, a collaboration between university students and The Fortune Society, focuses on Rikers Island.
While national bipartisan support for criminal justice reform grows on Capitol Hill, local communities are deeply divided over how to change the system. In Tennessee, issues of prison overcrowding, rising assault rates, and work conditions for correctional officers have drawn the attention of legislators, journalists and the public.
For its staging in Nashville, the exhibition addresses the question, "Why Do Rural Communities Become Prison Towns?," with a special focus on the Trousdale Turner Correctional Center, a private prison built by Corrections Corporation of America (CCA) at the foot of a mothballed nuclear reactor in Hartsville, Tenn.
Associate Professor of Philosophy Lisa Guenther worked with undergraduate students in her Contemporary Philosophy class at Vanderbilt to research the Trousdale County prison, analyze the issues raised by the site, and create exhibition materials such as a 20-page booklet to educate the public about these issues. The title of the booklet is Prison Profiteering in a Nuclear Shadow.
"[lquote]The Prison Industrial Complex affects everyone who lives in the United States, whether or not we ever set foot in a prison or jail[/lquote]," Guenther says. "This project has given students and faculty a unique opportunity to learn how mass incarceration structures our everyday lives, and to share our knowledge with the public. It's exciting to put the theories we studied in the classroom into practice, and to develop new theories in response to local situations."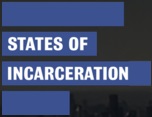 Designed by Brooklyn, N.Y.-based design firm Matter Practice, the States of Incarceration exhibition features interviews with formerly incarcerated people, corrections officers and policy advocates; images capturing the evolution of crime and punishment in different contexts; and data demonstrating the explosive growth of incarceration and its impact on American society.
States of Incarceration also includes a web platform, statesofincarceration.org; public dialogues; a "Shape the Debate" mobile campaign; and a podcast series. Designed by Picture Projects, a Brooklyn, N.Y.-based studio, these elements expand on the traveling exhibition and provide a medium to connect communities across the country.
"We can't fix the criminal justice system in any meaningful or transformative way without properly diagnosing its many problems," says Khalil Gibran Muhammad, professor of history, race and public policy at the Harvard Kennedy School. "Knowing how we got to this point is critical, to be sure. But so too is changing the culture of punishment by building a shared understanding of the past. I can't think of a more powerful way to achieve these goals than a public history project as remarkable as States of Incarceration."
States of Incarceration is a project of Humanities Action Lab, a collaboration among Vanderbilt University and 19 others, led by The New School, working with issue-based organizations and public spaces to foster new public dialogue on contested social issues, through public humanities projects that explore the diverse local histories and current realities of shared global concerns. Universities partnering in States of Incarceration are Arizona State, Brown, DePaul, Duke, Indiana University-Purdue University Indianapolis, Northeastern, Parsons Paris, Rutgers-Newark, Rutgers-New Brunswick, Skidmore College, The New School, University of California-Riverside, University of Connecticut, University of Massachusetts-Amherst, University of Miami, University of Minnesota, University of New Orleans, University of North Carolina at Greensboro, University of Texas at Austin and Vanderbilt.