Vanderbilt recycling up 500 percent since 2007
Apr. 21, 2016, 2:35 PM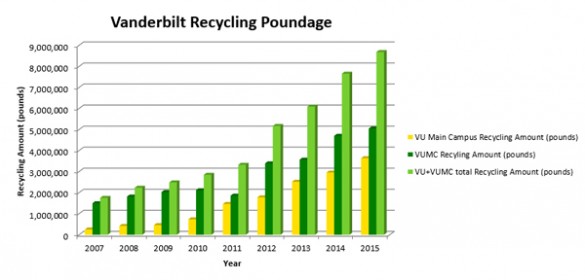 Vanderbilt University again has increased the amount of materials it recycles.
Recycling increased by 15 percent from 2014 to 2015, now totaling 8.7 million pounds of materials per year—the same weight as 19 Statues of Liberty. The university has increased recycling by nearly 500 percent since 2007.
In 2015, Vanderbilt recycled enough cardboard, plastic, scrap metal, aluminum, glass, bulbs, electronics and ink/toner cartridges to conserve the equivalent of the following natural resources:
77,500 mature trees saved;
15,000 cubic yards of landfill airspace, equal to the space inside 135 semi-trailers;
18 million kilowatt hours of electricity, which is enough electricity to power 1,500 homes for a year;
9,000 barrels of oil, which is enough to produce 171,000 gallons of gasoline;
14,000 metric tons (MTCO2E) of greenhouse gas emissions; and
27 million gallons of water, which would fill 41 Olympic-sized swimming pools.
Vanderbilt also had a record year for ink and toner cartridge recycling in collaboration with Procurement and Disbursement Services and Guy Brown. VU staff recycled more than 13,700 cartridges with a 63 percent recovery rate in 2015, almost doubling that of 2014.
For more information about Vanderbilt's recycling program, visit the SustainVU website, contact recycle@vanderbilt.edu, or call 615-343-2784.
Contact: Sustainability and Environmental Management Office, 615-343-2784
recycle@vanderbilt.edu