Media Inquiries
Latest Stories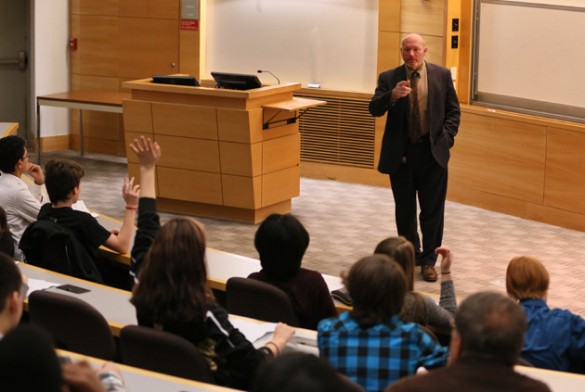 More than 50 eighth-graders from Springfield Middle School in Springfield, Tennessee, toured the Vanderbilt power plant April 5 as part of the Aspirnaut Program, a partnership between Vanderbilt University Medical Center and rural K-12 schools to help recruit and develop the science, technology, engineering and math workforce of the future.
Under the direction of co-founders Billy Hudson, the Elliott V. Newman Professor of Medicine, and Assistant Vice Chancellor for Health Affairs Julie Hudson, the Aspirnaut Program reaches students in Arkansas and Tennessee by videoconferencing science lessons in their rural classrooms to engage them in hands-on, inquiry-based STEM labs led by VUMC faculty, postdoctoral fellows, and graduate and undergraduate students.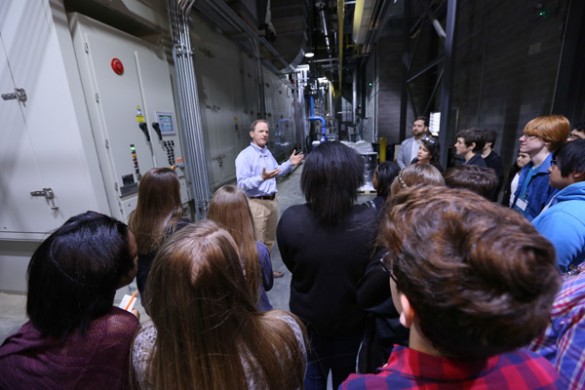 A major portion of the Springfield Middle students' curriculum this spring has been about energy, including labs on fossil fuels, alternative energy sources, and engineering. At the end of the year, Aspirnauts have the opportunity to visit Vanderbilt hosted by the Hudson lab as well as other labs and departments on campus.
Under the guidance of Plant Operations staff, the students toured Vanderbilt's cogeneration power plant, which uses natural gas turbines to produce steam and electricity in a highly efficient manner providing heat and power to the university and VUMC campuses. The power plant services 12 million square feet of building space.