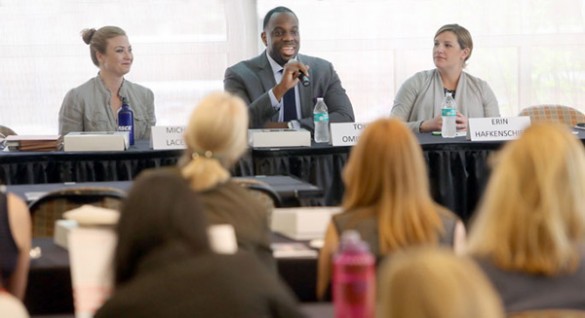 The Vanderbilt community had the opportunity to interact with regional transit officials on efforts to ease traffic congestion and improve public transportation during a discussion April 14 at Vanderbilt's Student Life Center. The panel discussion and Q-and-A were part of the Food for Thought lunchtime series sponsored by the Community Neighborhood and Government Relations office at Vanderbilt.
"Vanderbilt has long been part of transit conversations and has long been committed to finding solutions. … Our support of transit is more than conversational; it is intentional," Vice Chancellor for Public Affairs Beth Fortune said in her introductory remarks.
Fortune noted that the university was an early supporter of Transit Alliance of Middle Tennessee, a nonprofit organization with a mission to build support for funding regional transit by mobilizing community leadership. She also highlighted the Vanderbilt/MTA Ride to Work program, which allows full-time faculty, staff and graduate students to ride the bus to and from campus for free. Last year, that amounted to more than 440,000 individual rides. Fortune also thanked Associate Director for Community Engagement Gail Carr-Williams, the April 14 event's organizer, for her 12 years of service on the MTA board.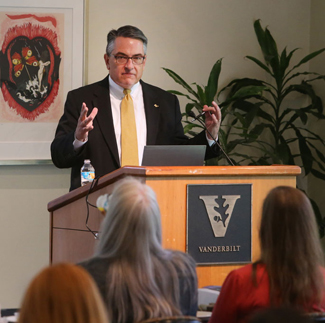 During the panel discussion, moderator Steve Bland, CEO of Nashville Metropolitan Transit Authority and Middle Tennessee Regional Transit Authority, was joined by three panelists: Tennessee Department of Transportation Deputy Commissioner Toks Omishakin, Nashville Transportation Director Erin Hafkensciel, and Nashville Area Metropolitan Planning Organization Deputy Director Michelle Lacewell.
With Nashville's "it city" status yielding a massive influx of new residents and construction, traffic congestion has become a major problem, and it is only expected to get worse in the coming years. Attendees were shown a map outlining projected traffic density if Nashville's growth is not addressed from a transit standpoint.
"I love this industry, and it's going through a lot of changes as we speak," Omishakin said. "Every day I approach it from the viewpoint that the next 60 years won't look anything like the past 60 years. But right now we have $11 billion in unmet need. So we will need funding—and policy changes—if we are going to successfully manage the challenges of transportation in our state's future."
Bland detailed three scenarios that Nashville MTA/RTA has developed for the future of the region's transit system. The prospective plans fall under the NMotion Strategic Planning Process. Attendees were able to view transit maps for the current system as well as the projected scenarios.
The first proposes a comprehensive regional transit system across Davidson County, including light rail, commuter rail, streetcars, bus rapid transit and more. It is the most ambitious plan, and would require the greatest financial input. The second scenario is a bus-focused expansion that includes bus rapid transit and options like "bus on shoulder" and express bus service to several locations, as well as new crosstown routes. The third scenario proposes modest improvements to existing services.
Attendees were encouraged to provide feedback on the plans through a printed survey or online at nmotion2016.org/decide.
"What we are hearing from citizens is that they want a larger investment into light rail and bus," Bland said. "But along with that, they are asking for better sidewalks, safer crosswalks and well-lit bus stops. We need to make sure alternative forms of transportation are safe, convenient and easy to use."
"In the '50s and '60s, we made decisions based on cars, but we can't continue as we have," Lacewell said. "We are at the peak of the car period and moving toward denser cities. We have to plan around pedestrians, bikes and public transportation if we are to keep pace."
Sidewalks, crosswalks, bus stops and bike lanes are becoming a regular part of transit conversations across the city, they said. Mt. Juliet was mentioned as a community that is making strides in taking a modern, integrative approach to transit. Hafkensciel emphasized the need for collaboration and open dialogue between agencies.
"We are seeing more city planners and policymakers working together to find solutions, and that's a nice shift," Hafkensciel said.
Also discussed was the new Music City Transit Tracker app for Apple and Android. It allows prospective MTA bus riders to access real-time transit info, including bus locations and times of arrival. Download it free at nashvillemta.org/transittracker.