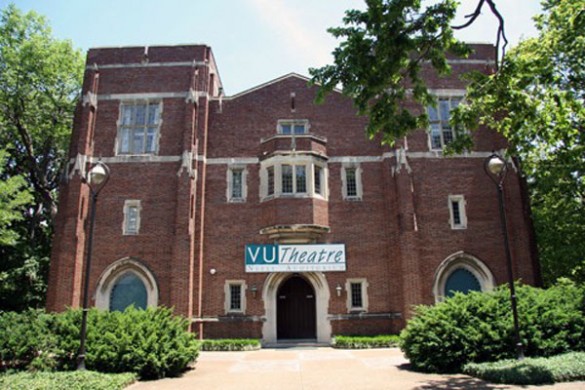 Three original shows created by Vanderbilt University Theatre students will be performed April 21-23 at Neely Auditorium.
The first one, Fiascos!: A Staged Reading, showcases the work of five student playwrights who have been working with Fred Coe Playwrights in Residence Diana Grisanti and Steve Moulds, according to Leah Lowe, associate professor of theatre and department chair.
"Sadie Andros, Stephanie Carlson, Harrison Kenum, Hannah Lazarz and Sarah Vollman have meditated on the meaning of fiascos, and how it feels to reach for the sky and land at rock bottom," Grisanti said. Kenum is a Curb Scholar while Lazarz is an Ingram Scholar. Moulds noted that the staged reading will convey the students' stories. Fiascos! A Staged Reading will be presented at 7 p.m. April 21.
The second show, Grief: Five Stages, Three Days, will be performed by five seniors. Sadie Andros, Cate Jo, Connor Lehr, Nick Mecikalski and Stephanie Skinner wrote the play as an ensemble and will be performing it April 22 at 8 p.m. and April 23 at 2 p.m. Skinner is a recipient of the Harold Stirling Vanderbilt and Dawn Gross Memorial Scholarships.
"The students play five grief-counseling attendees mourning their departed loved ones when they find themselves confronted with another tragedy," Lowe said. "Their revered grief counselor, Jay, turns up brutally murdered. Accusations fly, emotions boil over, people yell and plot lines twist while three questions plague the protagonists: Who killed Jay, with what weapon, and in which room?"
Grief: Five Stages, Three Days will be followed both times by Wonderful Thoughts, a one-man play by Nick Mecikalski, the recipient of the Lydia A. Howarth and Nicholas S. Zeppos Scholarship and the Dawn Gross Memorial Scholarship. Mecikalski is also a College Honors Scholar and a Curb Scholar.
"Dodo, a human, arrives in the Siberian wilderness after walking there from Michigan over the course of several months," Mecikalski said. "So guilty about his complicity in humans' ecological destruction of the planet, Dodo has isolated himself from the rest of humanity, intent on transforming into a different kind of animal altogether to strip himself of the blame. Dodo aims to die a victim of the end of the world rather than be the cause of it, but humanness proves far more difficult to shed than he had planned."
All three performances are free and open to the public.