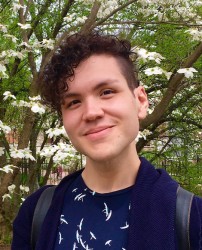 Antonio Villaseñor-Marchal, a first-year Ph.D. student in the Department of Anthropology, has won this year's Native American Graduate Archaeology Scholarship from the Society of American Archaeology.
The scholarship is awarded to one Native American graduate student per year pursuing research related to the study or preservation of an indigenous culture.
Villaseñor-Marchal, who spent his childhood on Menomonie and Ojibwa reservations in Wisconsin and who also has roots in the Blackfoot tribe and the Purépecha of central Mexico, plans to specialize in the biological analysis of human remains.
He will use the scholarship to pursue research in Peru's Colca Valley on the Reducción General de Indios, a massive program of forced resettlement of Inca communities in the Andes by the Spanish that began during the late 16th century. He'll use the funds to join an excavation team led by Steven A. Wernke, associate professor of anthropology, as they break ground at Mawchu Llacta, a well-preserved Reducción village.
At Mawchu Llacta, Villaseñor-Marchal will help excavate a chapel and study any graves they find to learn more about the mortuary practices of the time. "I want to see how people were buried. I think it's very indicative of cultural practices, and it can tell us a lot of things, within that culture, about status. What were they buried with? Where in this setting were they buried? Were they buried closer to the altar or further away? And who was buried there? Was it children, was it women or was it mostly men? And how did that affect where they were buried?"
He'll also analyze the remains for any biological clues to how resettlement may have affected the Incas' health, diet and lifestyle. "[lquote]It may tell us how they died, it will tell us how they lived, for sure, and what aspects of the colonial agenda affected them on a biological level."[/lquote] For example, there may be clues to how their nutrition changed when they moved into an urban environment, or how certain diseases may have spread in close quarters.
"I'm so excited," he said. "This is a huge, huge opportunity for me and I can't wait to be there this summer."