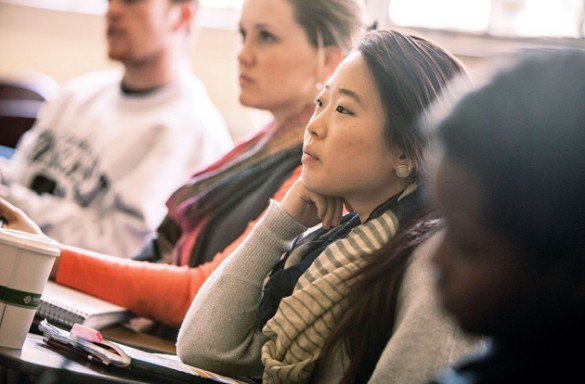 Following a multi-committee systematic review of the university's course evaluation practices, Vanderbilt University will implement a new course evaluation system for the four undergraduate schools. The course evaluation form will include new questions that will go into effect in fall 2016.
Efforts to reinvigorate Vanderbilt's course evaluations began in 2013, when the Committee to Reevaluate Evaluations, referred to as the "EvalReval Committee," took up its charge to analyze the Vanderbilt Online Instructor and Course Evaluation system, commonly known as VOICE. The committee, comprising both students and faculty, produced recommendations to develop an improved course evaluation system in its comprehensive 2014 report. Co-chaired by Mark Schoenfield, professor of English, and Leona Schauble, professor of education, the committee's recommendations included the revision of evaluation questions and structural changes to evaluation methods and processes.
After a semester-long faculty comment period following the 2014 report, then-Vice Provost for Research, Faculty and International Affairs Timothy P. McNamara and Vice Provost for Learning and Residential Affairs Cynthia J. Cyrus assembled the Teaching Evaluation Finalization Task Force to incorporate faculty feedback in the design of the evaluation questions, with particular attention to those questions utilized in the faculty promotion process. The task force's recommendations are outlined in its August 2015 report.
In spring 2016, Cyrus formed the Task Force for Course Evaluation Completion. The group was charged with identifying strategies to help increase course evaluation completion rates as well as with developing a timeline to successfully implement the recommendations of the prior committees, as indicated in its March 2016 report.
"Previously, the student body has expressed a need for a more comprehensive course evaluation system that is prioritized among administrators and is effective in voicing student opinions," said Elizabeth Shahnasarian, Vanderbilt Student Government president. "We are thankful for the work done by the course evaluation committees and our student members and look forward to the positive changes it will bring."
Based on the cumulative efforts of the aforementioned working groups, notable modifications to Vanderbilt's course evaluation practices will include:
Educational outreach to students and faculty about the teaching evaluation process, including the value of course evaluations in improving teaching effectiveness and student learning;
Allotment of class time for students to complete their evaluations;
Deployment of a new mobile-friendly course evaluation software system to replace VOICE; and
Ongoing assessment of both student and faculty satisfaction with the new software system and course evaluation form.
With the assistance of the Enrollment Management Operations Support team led by director Gregory Kyle, the university is currently reviewing software applications to support the university's evaluation goals, with the objective of implementing the new software in fall 2016.
"With the broadly consultative and in-depth work of the various course evaluation committees, we look forward to implementing a superior evaluation tool that will engender the highest level of teaching at Vanderbilt," Cyrus said.