Media Inquiries
Latest Stories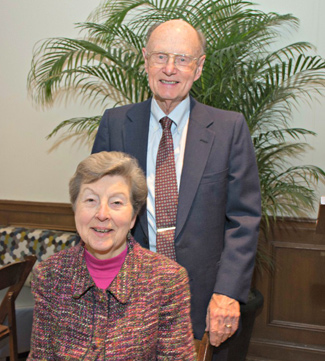 A Vanderbilt University named scholarship endowed by an emeritus theology professor and his wife will provide financial support for deserving Divinity and Graduate Department of Religion students.
Preference in awarding the Eva F. and Peter C. Hodgson Scholarship will be given to students with an interest in theological or ethical studies.
"We are grateful for the deep commitment of Eva and Peter Hodgson to theological education at Vanderbilt," said Emilie M. Townes, dean of the Divinity School and the E. Rhodes and Leona B. Carpenter Professor of Womanist Ethics and Society at Vanderbilt. "The impact of their generous gift will be measured for years to come by the countless number of students who will benefit from this scholarship."
Eva Fornady Hodgson was born in Budapest, Hungary, and became a war refugee in 1945. She immigrated to the United States five years later with her mother and grandmother. Eva graduated from Wellesley College in 1960 and married Peter. In 1961, she earned a master of arts in teaching from Yale University and spent her career teaching German and English as a second language. She and Peter have two children.
Peter Hodgson, the Charles G. Finney Professor of Theology, Emeritus, taught at the Divinity School from 1965 until his retirement in 2003. He distinguished himself with work in both historical and constructive theology. Peter earned his undergraduate degree in history from Princeton University in 1956. He then attended Yale University, earning a bachelor of divinity in 1959, a master of arts in 1960, and a doctorate in 1963. He taught at Trinity University in San Antonio, Texas, for two years prior to coming to Vanderbilt.
During Peter's first year at Vanderbilt, his doctoral dissertation, The Formation of Historical Theology: A Study of Ferdinand Christian Baur, was published. Baur was a renowned historical theologian of the 19th century.
Nearly a half-century later, Peter returned to his study of Baur and, in collaboration with Robert F. Brown, translated History of Christian Dogma. This is Baur's one-volume summary of his lectures on the history of Christian dogma. Hodgson and Brown also completed a companion volume, Baur's Lectures on New Testament Theology.
In addition, Peter has been a leading translator of the works of G.W. F. Hegel, a German philosopher of the early 19th century. He worked with Brown for several years on a new translation of Hegel's Lectures on the Philosophy of World History. Hodgson also has written on various themes in contemporary and systematic theology.
Peter's leadership in graduate education at Vanderbilt included chairing the Graduate Department of Religion three times between 1975 and 2001. He also served as chair of the divinity faculty and served on the Faculty Senate, the Graduate Faculty Council, and the University Research Council.
"Vanderbilt Divinity School provided me a wonderful opportunity to pursue my interests in teaching and research. The school continues to play a critical role in theological education, and we are happy to contribute to the support of future students," he said.