Media Inquiries
Latest Stories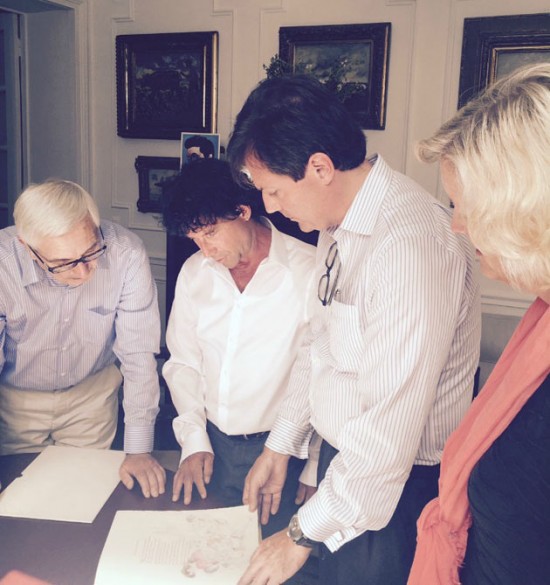 A stellar collection of works by and about Paul Verlaine, who was elected France's "Prince of Poets" by his peers, has been acquired by the W.T. Bandy Center for Baudelaire and French Studies at Vanderbilt University.
Funding for the Hervé Vilez-Paul Verlaine Collection was provided by an anonymous donor. The collection was obtained from author and collector Hervé Vilez of Paris, France.
"The Verlaine Collection is a remarkable body of work to be placed alongside our own Bandy Center collections," said Susan Wente, provost and vice chancellor for academic affairs. "With the addition, Vanderbilt is now home to one of the most extensive collections of modernist work outside of Europe."
Wente traveled to the Vilez home in Paris accompanied by Robert F. Barsky, professor of French and Italian and faculty director of the Bandy Center, and Daniel Gervais, professor of law, to engage in discussions about bringing this work to Vanderbilt.
Verlaine was a celebrated poet in his lifetime, the author of the renowned volume Les Poètes Maudits (The Accursed Poets, 1884), and a prominent leader of the Symbolists, a group of writers and artists who rejected realism and naturalism and employed symbols to evoke ideas and emotions.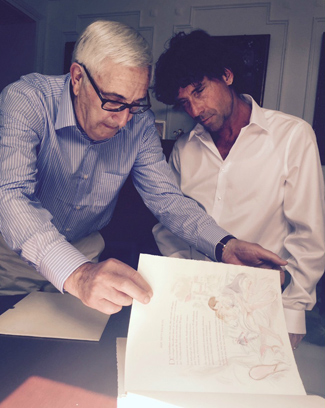 "Paul Verlaine is one of France's major poets of the second half of the 19th century, and by adding this collection to the collections already housed in the Bandy Center, Vanderbilt becomes an unparalleled resource for scholars of French modernism," Barsky said. "The collection is extraordinary and extensive, including more than 300 original editions, 200 collective editions including music and translations, 403 pieces of literary documentation, 187 periodicals, 118 works of iconography, and 310 'curiosa' relating to the life and work of Verlaine. Furthermore, all of these works have been catalogued with remarkable precision by Hervé Vilez, a man of extraordinary passion and intellect, who was committed to seeing that the fruit of 35 years of meticulous work on Verlaine find a permanent home alongside the Baudelaire collection for which Vanderbilt is so famous."
Verlaine was born in Northeast France in 1844. As a young student, he was inspired by Baudelaire's Les fleurs du mal. He published his first book of poetry, Poémes saturniens, in 1866. Four years later, he received a letter from Arthur Rimbaud and began a stormy affair that has been the subject of many books and films. Verlaine ended up going to prison for 18 months after shooting at his lover and injuring his wrist. While behind bars, Verlaine wrote Romances sans paroles.
During Verlaine's later years, he went bankrupt and suffered from alcoholism and other health problems. However, his early poetry was rediscovered and he developed a large following among the French people prior to his death in 1896.
Yvonne Boyer, Bandy Center librarian, and Seth Whidden, a professor at Villanova University and Bandy Center Visiting Scholar, initially visited with Vilez in Paris to review the collection. "As one of the co-editors of Revue Verlaine, I can attest to how important it is to have this collection available to researchers for Verlaine scholarship and for 19th-century French studies in general," Whidden said. "It is quite simply a tremendous complement to the Bandy's existing holdings."
The W.T. Bandy Center for Baudelaire and Modern French Studies is a joint center of the Department of French and Italian and the Jean and Alexander Heard Library. The Bandy Center is located in the Central Library and welcomes national and international scholars, including classes, supporting scholarship through its collections and services.
"Special collections and primary source materials are critical for the researcher," said Jody Combs, interim dean of libraries. "They are the equivalent of those rare scientific instruments so necessary for advances in the sciences. The Bandy Center provides just this sort of access to rare and unique materials for discovery and scholarship. The Verlaine Collection speaks eloquently to the other collections in the center. We are so privileged to protect, preserve and make it accessible for current and future generations of scholars."
Barsky notes that the original editions are not just first editions, but in many cases are signed, annotated or illustrated with original drawings and paintings. "In this regard, the Hervé Vilez-Paul Verlaine Collection is of untold value on account of the signatures, notes, marginalia and, moreover, the drawings and paintings that make up many of the works that are original to the collection," he said.
Among the many signatures and dedications in the collection are signatures and important letters from Verlaine and notes to Vilez, as well as to Baron Henri de Rothschild, Jules Périllard, Pierre Valléry-Radot and many other prominent French citizens. Striking as well are the many original sketches and even paintings that can be found on pages of the works in addition to reproductions.
"One of the remarkable characteristics of this collection is that it contains many drawings, paintings and lithographs that will provide extraordinary resources for scholars who are interested in the overlap between the literary text and the images they have stimulated. In all, this new collection provides precious new insight into Verlaine and will attest to the growing relevance of French modernism for artists and scholars the world over," Barsky said.
To honor the collector and to offer an opportunity to showcase and discuss the collection, Barsky and the Department of French and Italian will host an international Verlaine seminar in the fall of 2016 featuring leading scholars of French modernism alongside Chancellor Nicholas S. Zeppos, Provost Susan Wente and College of Arts and Science Dean Lauren Benton, who were all involved in bringing this world-class collection to Vanderbilt.