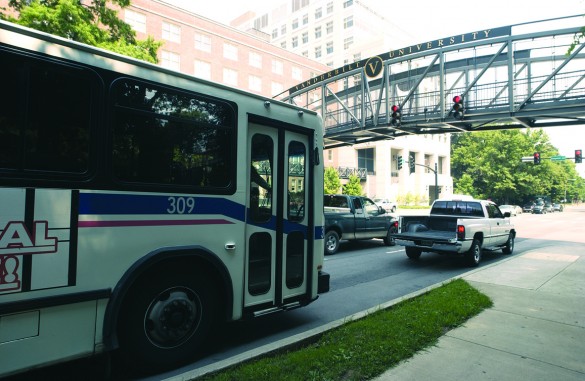 Easing traffic congestion and improving the public transportation system are critical issues for the city, and the Vanderbilt community has the opportunity to interact with transit officials on those topics during an April 14 Food For Thought lunch conversation.
"A Conversation about Mobility and Transportation in Middle Tennessee" will be held in the Board of Trust Room at the Student Life Center beginning at 11:30 a.m. The first 100 participants will receive a complimentary boxed lunch.
Stephen G. Bland, CEO of Nashville's Metropolitan Transit Authority and Regional Transit Authority, will moderate. Panelists include Erin Hafkenschiel, director of transportation and sustainability for the Nashville Mayor's Office; Michelle Lacewell, deputy director and director of communications for the Nashville Area Metropolitan Planning Organization; and Toks Omishakin, deputy director and environmental bureau chief for the state Department of Transportation.
Following the panel presentations and a Q&A, an open house will be held until 2 p.m. to showcase three transit scenarios developed by MTA and RTA. Audience members will have the opportunity to respond to the scenarios.
"This presentation will help the audience understand the government infrastructure and planning that must take place for improved transit in Middle Tennessee," said event organizer Gail Carr-Williams, associate director for community engagement in the Office of Community, Neighborhood and Local Government Relations (CNGR). She has been a member of the MTA board since 2002. "The open house portion will allow for audience members to interact with MTA and RTA staff about the planning process and possible scenarios."
The Food For Thought series is sponsored by CNGR, part of Vanderbilt's Public Affairs Division.