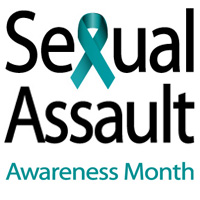 The Project Safe Center for Sexual Misconduct Prevention and Response is sponsoring five events in April for Sexual Assault Awareness Month. These events, which are co-sponsored by Vanderbilt Student Government, are for Vanderbilt students, faculty and staff and are not open to the public.
Monday, April 11

The Hunting Ground screening and panel discussion
6:30–8:30 p.m., Sarratt Cinema
This screening of The Hunting Ground will help audiences understand the prevalence of sexual violence on college campuses across America and will be followed by a panel consisting of Vanderbilt students discussing the importance of the issues of campus sexual assault as well as prevention efforts on Vanderbilt's campus. Log in to Anchor Link to learn more.
Tuesday, April 12
Survivor Solidarity Workshop
6:30–7:30 p.m., Black Cultural Center
This workshop is for those interested in learning about what it means to experience power-based personal violence, how trauma impacts survivors, and how to be a supportive friend, family member, partner, etc. Log in to Anchor Link to learn more.
Wednesday, April 13
Prevention Procession and shared survivor stories
7:30–9:30 p.m.
From Main Library to Kissam Multipurpose Room
The Prevention Procession is a time to bring awareness of sexual assault as well as a chance to show solidarity with survivors of sexual violence. All survivors and supporters are welcome to join. At the end of the walk, survivors will have the opportunity to share their experiences about the impact violence has had on their lives. Log in to Anchor Link to learn more.
Thursday, April 14
Green Dot training
3–9 p.m., Sarratt 325/327
Green Dot is a bystander intervention program designed to prevent and reduce power-based personal violence within our community. In this training, participants will learn how to safely and appropriately intervene. Log in to Anchor Link to learn more.
Friday, April 15
Project Safe Center open house
2:30–4:30 p.m., 304 West Side Row (Cumberland House)
Project Safe invites you to come meet us. We know it's important for our community members to know who we are, to get to know us and to know our space. Also feel free to visit our website.
During the same week, April 11–15, Project Safe will have a table set up at Sarratt Student Center Monday through Friday from 11 a.m. to 1 p.m. Additionally, an "It's On Us" pledge signing will take place in Rand Hall on Friday, April 15, from 11 a.m. to 1 p.m.
Contact: Cara Tuttle Bell, (615) 875-0660