Your input requested about Nashville sidewalks and bikeways
Apr. 7, 2016, 4:43 PM

Mayor Megan Barry and the Metro Public Works Department are reaching out to the Vanderbilt community and the Nashville public for input about Metro's Strategic Plan for Sidewalks and Bikeways, also known as "WalknBike."
A kickoff meeting is set for Friday, April 15, from noon to 1:30 p.m. at the downtown Nashville Public Library, 615 Church Street. Representatives from Metro Public Works and its consultant team will provide an overview of the yearlong project at this community meeting. They also invite Nashvillians to comment about their experiences with city sidewalks and bikeways and to suggest what they'd like to see in the future.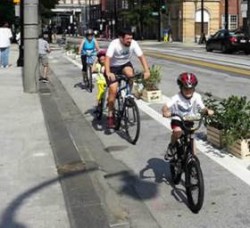 You also may participate by completing the first of two community surveys assessing the public's needs for walking and biking. The information gathered from this survey will be used to plan and guide investment in sidewalks, street crossings, bikeways and other pedestrian and bicycle improvements.
Additionally, you may add your comments to this interactive map, which allows you to pinpoint exactly where sidewalk and bikeway improvements are needed.
Your participation is encouraged by Vanderbilt's Office of Community, Neighborhood and Government Relations. For more information, visit the WalknBike website.