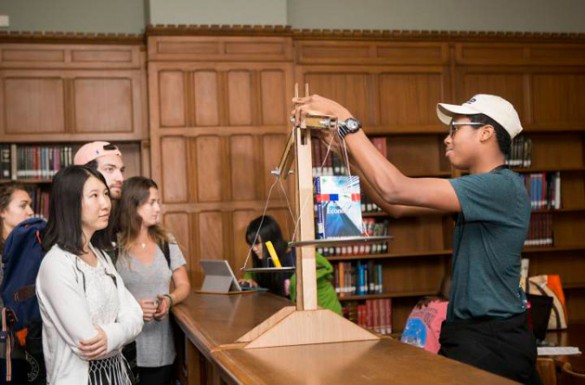 Vanderbilt University art students in a class taught by Mel Ziegler offer their perspectives on books, technology and "how students connect and disconnect" at the library in a new exhibition.
"Dis-connect," a series of installations located throughout the Central and Divinity libraries, is free and open to the public April 6-18. An opening reception will take place April 6 at 4 p.m.
"My students chose the overall theme of 'Dis-connect' for their installations, partly in reference to how digital media transforms the way we even think about libraries today," said Ziegler, who is the Paul E. Schwab Professor of Fine Arts and professor and chair of the Department of Art.
Among the installations are:
"Scales of Minerva," by Furichous Jones IV, a first-year student from Carrollton, Georgia. "I wanted to convey the idea that all of the information that can be found on one cell phone could probably outweigh one book," Jones said. Viewers will see a justice scale on a pedestal, with a cell phone on one side and books on the other. Jones, who is majoring in chemical and biomolecular engineering, noted that Minerva was the goddess of wisdom.
"Deep," by Jingzhi Wang, a sophomore from China. "I wanted to relate the lotus garden to meditation and draw the connection between thinking and meditation," she said. "In addition, my installation shows a way to disconnect from academics and to rest the mind. Viewers can sit on a rug by papier-mâché leaves and listen on headphones to environmental sounds from the TaoMix app." She is majoring in economics and sociology in the College of Arts and Science.
"Portrait of Nathan," by Conor Bloomer, a junior from Cambridge, Massachusetts. "One of my best friends is a literature major, and I worked with cut-up pages from books that he selected as most influential in his path of study," Bloomer said. "The pages are randomly organized together to highlight the 'random overlap' that occurs in our brains as a result of our individual experiences and knowledge, symbolizing the way we connect to knowledge." Bloomer is majoring in art.
"Happiness Can Be Found in the Darkest Places … " by Kate Stark, a sophomore from Orlando, Florida. The expression, from Harry Potter, continues with "…if one only turns on the light." Stark, who is an art major, said that she was an avid reader and fan of the Harry Potter books. "[rquote]Reading is turning on that light to happiness, and one can find solace just being around good books,"[/rquote] she said. Her installation includes papier-mâché light bulbs with book pages hanging from them.
"Metal Time," by Kayla Sun, a junior from China. "People seem to get lost in time in the library," she said. "I wanted to show people that they can have control over their time, so I created wireworks of clocks hung from random places. They don't move." Sun, who has a double major in studio art and economics, said the installation represents the idea of stopping time so that it lasts longer in the library.
"Time," by Xiyu Deng, a senior from China. "I project a video of a metronome on the wall to remind people of the elapsed time," she said. Her installation also includes several other metronomes that do not make sounds interspersed around the library, with some in the stacks. "These 'quiet' metronomes mimic the stationary status of the books in the library," she said. Deng is majoring in mathematics.
"Creativity Cage," by Mark Wang, a junior from China. "The purpose of this installation, located in a cage-like carrel, is to visualize the anxiety and pressures people have against their creativities," he said. "By locking them in this cage, they are forced to spit out their creativities for their dreams and for society." Wang, who is majoring in art, has several unfinished drawings in his installation.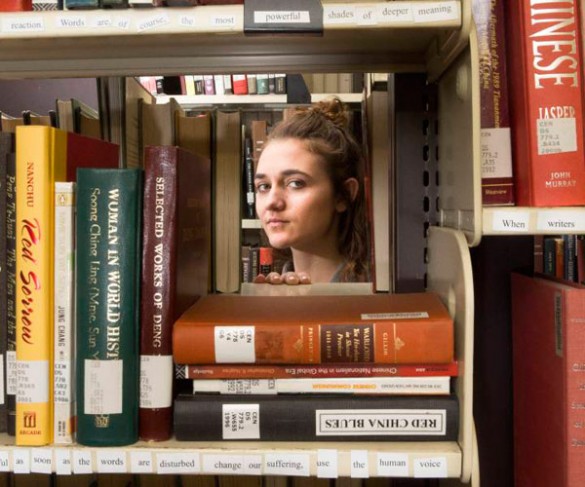 "Between," by Larissa May, a senior from Chicago. "I wanted to highlight the fundamental building blocks of the English language—words," she said. "I put together groups of words that are interchangeable, moveable and replaceable and placed them on a bookshelf in between some books." May put the words on magnetic strips so that viewers could re-arrange the words and create their own interpretation of the meaning. May designed a major called Creative Strategy: Marketing and Communications.
Ziegler noted that the student installations intend to create "moments of pauses" as viewers come across things that might seem out of place. He asked his students to engage with the space from the perspective of an artist rather than that of someone checking out a book or finding a study space. "This was a very different kind of approach to engage contemplation," he said.
"Dis-connect" will be open through April 18. Click here for a schedule of the libraries' public hours.