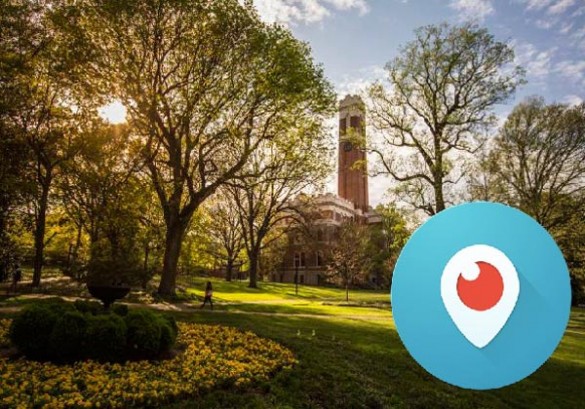 Vanderbilt Libraries' digital scholarship workshops have the potential to go global in real time, thanks to one of the new apps that let people share and watch live video streams direct from a smartphone or tablet.
The library is using the Periscope app, which was publicly launched in 2015 after acquisition by Twitter, for experimental live broadcasts of programs. The March 16 educational technology talk by Robbie K. Melton was also broadcast using Periscope, according to Clifford Anderson, director for scholarly communications.
"Content on Periscope is available for only a limited amount of time before it disappears, so the videos feel more like an immediate and transitory look at what is happening, rather than a full-blown archival production," Anderson said. He noted the library is exploring ways to broaden the university's use of Periscope for educational events.
The Owen Graduate School of Management, which has been hosting Web chats for its prospective students for 10 years, also has been experimenting with the app, according to Bailey McChesney, senior assistant director of admissions.
"[rquote]Web chats are a great way to reach a large population of prospective students and a convenient method for these individuals to interact with staff and current students," McChesney said.[/rquote] "Last fall, a current student made the suggestion that we add a video element to our chats to help the program come to life. When I started exploring this idea further, Periscope seemed like the obvious choice because it was the forum most candidates were using."
Hilary Craiglow, director of the Walker Management Library and library communications, said that the immediacy of the technology—with the feed usually being available just for 24 hours after the broadcast—is an attractive feature. "With an archival production, presenters might feel like they have to be perfect and spend endless hours in preparation," Craiglow said. "These broadcasts have a more unrehearsed, casual feel. We don't promote them in advance, but just post them on Twitter and watch the response. It's a great way to bring the content to where people are watching, especially our millennials."
Periscope is well integrated with Twitter, so those who tweet can notify their followers of their video broadcasts. Anderson is encouraging the Vanderbilt community to use the hashtag #vandyscope.