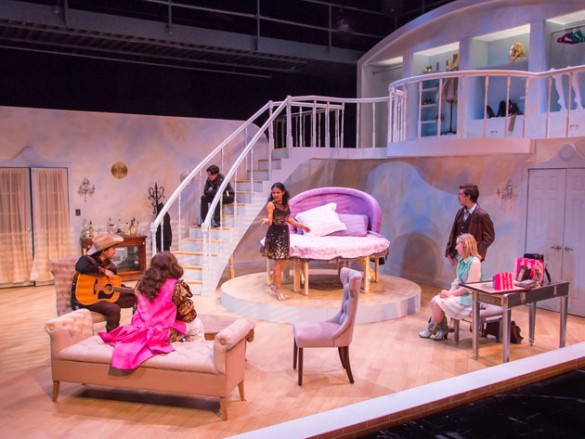 Vanderbilt University Theatre will make a creative leap with its April 7-10 production of Molière's The Misanthrope, which director Terryl Hallquist is setting in contemporary Nashville.
"Sans the ribbons and bows of affluent 17th-century French society, our production resides in modern, bustling Nashville," said Hallquist, associate professor of theatre at Vanderbilt. "Our production is partly inspired by the country music scene made newly popular by the celebrated primetime soap Nashville that is set in our metropolis."
The Misanthrope will be performed in Neely Auditorium at 8 p.m. April 7-9 and at 2 p.m. April 10.
"[rquote]Molière's conception of his litigious, obsessive upper-class society epitomizes the swagger and panache of our own 'It City'—a place where country stars, their lawyers, publicists and other cogs of the industry maneuver to the delight of adoring fans," Hallquist said.[/rquote]
"We are using acclaimed poet Richard Wilbur's rhyming translation of the play, so there is an interesting tension between his language and the contemporary setting," Hallquist said. "In our version, 'court' translates to 'the law,' while 'carriage' and 'coach' mean 'transportation' and 'personal trainer,'" she said. "When reference is made to the 'king,' why not think of Elvis in his gold Manuel suit?"
The word "misanthrope" is defined simply as a person who does not like other people. The story focuses on a controlling, jealous protagonist named Alceste, who is quick to criticize the flaws of everyone around him, including those of the woman he loves, Célimène.
Alceste will be played by Nick Mecikalski, a graduating senior in the College of Arts and Science who is a College Honors Scholar and a Curb Scholar. Mecikalski is also the recipient of the Lydia A. Howarth and Nicholas S. Zeppos Scholarship and the Dawn Gross Memorial Scholarship. The theatre major, who is completing an honors thesis project, has received numerous honors for his playwriting skills. In 2017, the National Theatre for Student Artists will produce the premiere of his play Slowmatch. He was one of The Blank Theatre of Los Angeles Young Playwrights Festival winners for 2011, 2012 and 2013. In addition, the Alabama Shakespeare Festival named Mecikalski a Young Southern Writers' Project Winner for 2013.
Other cast members include Scottie Szewczyk as Philinte, Cameron Williams as Oronte, and Miranda Pepin as Célimène. Hannah Lazarz is Eliante, Madagan Riley plays Arsinoè, Karim Oliver performs as Acaste, and Sammy Lyons will be Clitandre. Lindsey Swearingen plays Basque and Price Marshall will be Dubois/Officer.
Scott Boyd, professor of theatre at Middle Tennessee State University, is the Fred Coe Artist guest set designer for The Misanthrope. Phillip Franck, associate professor of theatre, is serving as lighting designer, while Alexandra Sargent Capps, senior lecturer of theatre, has designed the 'It City' costumes. Matthew Stratton, senior lecturer of theatre, will be the technical director.
This is VU Theatre's final production for the 2015-16 season. General admission for The Misanthrope is $10. Tickets are $7 for Vanderbilt graduate students and free for undergraduates with a Vanderbilt ID. Reserve tickets here or pick them up at Sarratt Box Office.