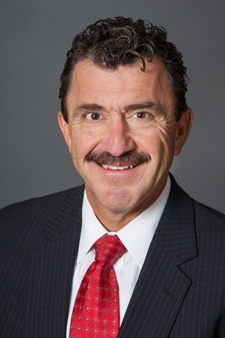 A recognized university facilities leader with more than 30 years' experience will join Vanderbilt University June 1 as associate vice chancellor and chief facilities officer.
Michael G. Perez comes to Vanderbilt from the University of Utah, where he has served for the past 14 years as associate vice president for facilities management responsible for and engaged with facilities planning, including leased space, design, construction, plant operations, environmental health and safety, sustainability efforts and public safety. He also led the University of Utah's 2008 campus master plan, which was recognized for excellence by the Society for College and University Planning.
Perez will play an integral role in the implementation of Vanderbilt's land use plan. In 2015, Vanderbilt began discussions with faculty, administrators, students and other members of the university community as part of a yearlong land use planning process. It is the first such plan in 13 years and comes on the heels of the university's Academic Strategic Plan. The land use plan is intended to dovetail with the strategic plan's focus on interdisciplinary collaboration, immersion learning and technological transformation as well as with initiatives around diversity and sustainability.
"[lquote]This is an important juncture in Vanderbilt University's history as we envision and create the physical environment that will allow us to carry out our mission in the most effective, sustainable and forward-thinking manner,"[/lquote] Chancellor Nicholas S. Zeppos said. "With Mike Perez, we have found a proven leader who can help guide this endeavor."
Perez was identified through a national search aided by a committee chaired by Vice Chancellor for Administration Eric Kopstain, to whom Perez will report.
"Mike Perez brings a wealth of experience, expertise and creative leadership to this critical role," Kopstain said. "In this position, he will be responsible for shaping, guiding, directing and leading strategical facilities solutions that support the mission and goals of the university in a manner that maximizes operational excellence, financial strength, sustainability and collaboration."
Responsible for providing a well-maintained and sustainable campus, the associate vice chancellor and chief facilities officer oversees the planning, program management and implementation of best practices for all aspects of campus facilities and grounds operations, maintenance, utilities and construction as well as real estate initiatives.
Perez will lead a workforce of 450 staff members responsible for the physical campus, which encompasses 10.8 million total square feet of space, including 7.2 million square feet of buildings, 330 acres of land, 2.1 million square feet of real estate property, 1.8 million feet of garages, a combined heat and power plant and comprehensive underground utility infrastructure, and the design and construction of capital projects.
One of his first orders of business will be to assess the current state of the university's functions and work with internal leaders throughout the university to develop appropriate plans which result in positive, sustainable change as necessary.
"I am honored to have been selected as associate vice chancellor and chief facilities officer at Vanderbilt University. Chancellor Zeppos and his administration are committed to excellence, and I'm excited about the opportunity of joining his team," Perez said. "Vanderbilt is a beautiful campus, well known for exceptional education while also advancing research and new discoveries. My hope is that our facilities organization will plan, develop, operate and maintain environments, within and beyond walls, to cultivate and enhance these experiences."
At Utah, Perez led a workforce of more than 600 employees. He directed the design and construction of more than 30 major projects including the first LEED-certified building in the Utah higher education system. Subsequently, 18 buildings meeting standards for silver, gold or platinum LEED certification were constructed.
The Utah campus, like Vanderbilt's, includes a number of medical academic, research and clinical facilities. Its medical school is the only one in the state.
With two bachelor's degrees and an MBA from Southern Methodist University, Perez began his career in higher education facilities management there in 1985, eventually becoming director of construction and renovation. In 1999 he joined Weber State University as assistant vice president for facilities management. He moved to the University of Utah in 2002.
In addition to Kopstain, the search committee comprised Professor of History David Blackburn; Assistant Controller, Finance, Jana Blick; Associate Vice Chancellor and Chief Human Resources Officer Barbara Carroll; School of Engineering Dean Philippe Fauchet; Associate Professor, Director, Pediatric Critical Care Fellowship, and Faculty Senate representative Geoffrey Fleming; Assistant Vice Chancellor of Finance-Administration Debbie Janke; Associate Vice Chancellor, Internal Audit and Institutional Risk Management Dennis Johnson; Vice Chancellor for Information Technology John Lutz; Associate Vice Chancellor, Advancement Services, Heather Marabeti; Deputy General Counsel Ruby Z. Shellaway; Assistant Vice Chancellor and Chancellor's Higher Education Fellow Tina Smith; and Senior Associate Athletic Director Candice Storey Lee.