Media Inquiries
Latest Stories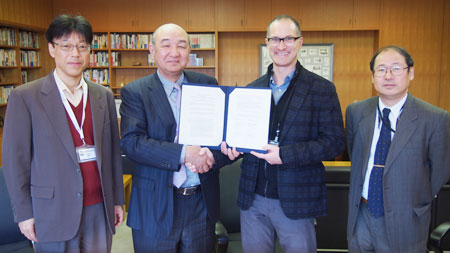 Vanderbilt University has signed an affiliation agreement with Minpaku, Japan's National Museum of Ethnology, to facilitate a series of symposia and lectures centered on the effects of the Reduccion General de Indios, a massive forced-resettlement program imposed by the Spanish colonial government on the indigenous people of the Andes in 1570.
The Reduccion General, which moved more than a million indigenous people from small agricultural settlements into planned towns, remains one of the largest programs of compulsory urbanization ever undertaken. Yet while effects of the resettlement endure to the present day, little is known about the resettlement program itself.
The agreement will link scholarship exchange projects pertaining to the Reduccion General led respectively by Steven Wernke, associate professor of anthropology, and Akira Saito, professor of anthropology at Minpaku. "[rquote]Our collaboration is an attempt to approach the topic comprehensively by bringing together scholars from around the world working in different parts of the Andes[/rquote]," said Wernke.
Wernke shares a two-year NEH Digital Humanities grant with Brown University historian Jeremy Mumford to develop online tools to crowdsource a comprehensive basemap of the Reduccion General, and an online gazetteer to collate information about these towns and the jurisdictional entities that were used to administer them.
Saito has received a five-year grant from the Japan Society for the Promotion of Science to host a series of workshops, symposia and conferences on the Reduccion and other forced-resettlement projects throughout history, to culminate in the production of two edited publications, in English and Spanish. Vanderbilt is hosting several of these events as part of the agreement with Minpaku.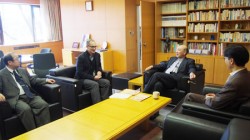 The inaugural international symposium in this series was hosted at Vanderbilt in November, with support from the College of Arts and Science. Another will be hosted at Vanderbilt during Saito's grant term. These events bring together leading scholars across the social sciences and humanities to explore both the origins and continued tangible effects of forced resettlement up to the present in the countries of Andean South America.
Additionally, the agreement supports Vanderbilt faculty and graduate students to participate in symposia and conferences in Europe and Japan, and opens the door for a Vanderbilt researcher to participate in the prestigious residential fellowship program at Minpaku, which is one of the largest anthropological research institutes in the world.
The signatories were Provost and Vice Chancellor for Academic Affairs Susan Wente, Dean Lauren Benton of the College of Arts and Science, Minpaku Director-General Ken'ichi Sudo and Deputy Director-General Nobuhiro Kigishami. The signing in Japan on Feb. 8 was witnessed by Wernke and Saito.