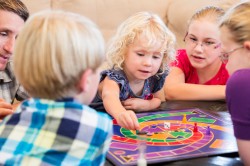 Carol Westby, a speech-language pathologist who is nationally recognized for her work in play assessment and development, theory of mind, and language-literacy relationships, will present a two-day course, "Play and Language," April 8-9 from 8:30 a.m. to 4:30 p.m. each day.
The course will be held in Medical Center East and is being hosted by the Department of Hearing and Speech Sciences.
This program will present current play theories, the development of various dimensions of play, and the interrelationships of these dimensions of play to children's language, social-emotional skills, self-regulation and literacy from infancy through early elementary school. All teachers, pediatric therapy professionals and students are welcome.
To learn more about the course or to register, visit https://www.mc.vanderbilt.edu/root/vumc.php?site=ContinuingEducation&doc=48361.
Contact: Kate Carney, (615) 936-5016
kate.carney@vanderbilt.edu