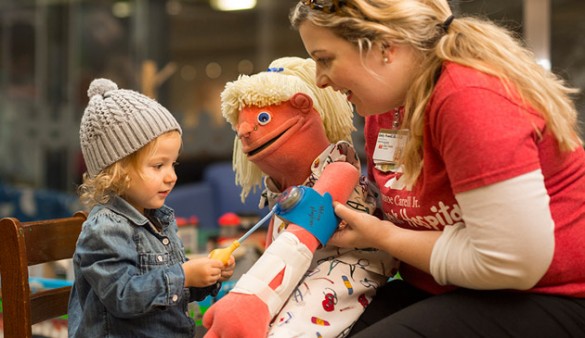 March is Child Life Month. In celebration, MySouthernHealth.com has featured a series of stories by Monroe Carell Jr. Children's Hospital at Vanderbilt specialists, who share their expertise with parents in putting children at ease.
Child Life Services works with patients and families to promote a positive medical experience. Child life specialists are trained in child development and the unique needs of children, teens and families in the hospital. Through play, these specialists create a friendly environment to help children feel more comfortable.
Vanderbilt's child life specialists share these tips for incorporating those skills into caring for your children:
Tips for using play to help children cope with medical events
Five ways to make painful procedures easier for your child
VUMC's My Southern Health is a consumer health and wellness website aimed at improving health in the Southeast. The content is written by experienced journalists on staff at VUMC using faculty and staff members as expert sources.
Sign up for daily email updates at My Southern Health and download a free healthy family recipe booklet. Find My Southern Health on Facebook and on Twitter @southernhealth.