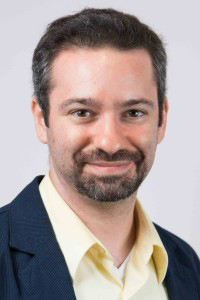 The Program for Music, Mind and Society at Vanderbilt, along with the Vanderbilt Brain Institute and the Department of Otolaryngology, is sponsoring a weekly lecture series during the 2016 spring semester on the science of music.
Mike Schutz, associate professor of music cognition and percussion and founding director of the Music, Acoustics, Perception and LEarning (MAPLE) Lab at McMaster University, will discuss "Exploring the Communication of Emotion in Music" from 1 to 2 p.m. Wednesday, March 30, in Light Hall, Room 208.
Music's emotional power has fascinated great thinkers from Plato to Darwin. Rigorous experiments manipulating melodies demonstrate that alterations to pitch height, timing and modality (major/minor) produce consequent changes in emotional messages, yet it is not clear whether these manipulations capture the full richness of musical communication as it occurs naturally in concert halls and coffee shops.
Schultz will give an overview of recent developments in his team's work on musical emotions as conveyed in widely performed pieces by historically significant composers. He also will discuss new findings on how these cues predict listeners' emotional responses, and the degree to which certain instruments have been "typecast" into conveying only a limited set of emotions.
For more information, visit the MAPLE Lab online or read more about this work in Frontiers in Psychology.
Ashley Hirsch, (615) 322-3086
ashley.b.hirsch@vanderbilt.edu