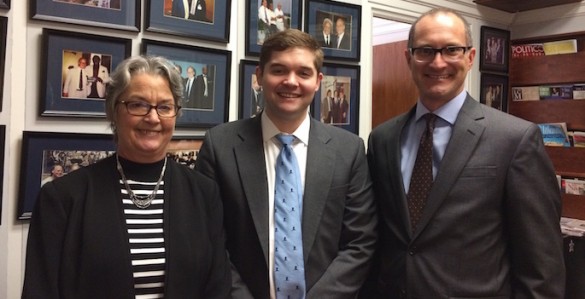 Mona Frederick, director of the Robert Penn Warren Center for the Humanities, and Steve Wernke, associate professor of anthropology, recently attended the National Humanities Alliance's annual meeting and advocacy day in Washington, D.C. and met with members of Tennessee's congressional delegation to advocate for robust federal humanities funding through the National Endowment for the Humanities (NEH).
The National Humanities Alliance is an advocacy organization dedicated to the advancement of humanities education, research, preservation, and public programs. Frederick and Wernke attended a series of panels and conversations with humanities scholars discussing current activities of NEH and pressing issues in the humanities, as well as preparing for conversations on Capitol Hill.
"In our meetings with the Tennessee delegation, we emphasized how the relatively small federal investment in NEH leverages substantial private sector funding to support not only research, but also educational and outreach activities that foster informed citizenship," said Gabriella Ra'anan, assistant director of federal relations, who accompanied Frederick and Wernke on their visit. "NEH also has a strong focus on preserving cultural artifacts, particularly in areas threatened by upheaval that could lead to destruction of historically significant sites."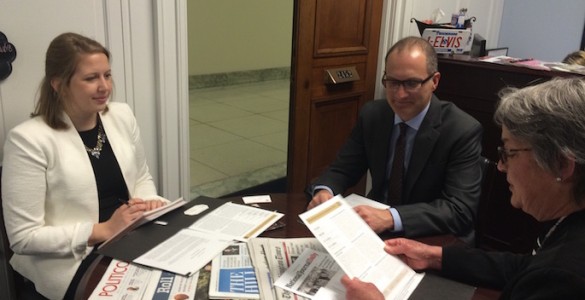 Wernke discussed his recent NEH grant to prototype two resources for collecting and analyzing geospatial data related to the Spanish colonization of Peru. Wernke and colleagues are developing a crowd-sourced, linked, open, online gazetteer—a geographical atlas—and a geospatial database and interface for producing thematic and analytical maps. These tools will be used to produce the most comprehensive settlement map of colonial Peru to date and serve as a model for spatially integrating fragmentary historical information.
Frederick profiled several of the Warren Center's humanities projects, including digitization of Robert Penn Warren's interviews with civil rights leaders, annual activities the Warren Center coordinates with Humanities Tennessee's Southern Festival of Books, and the upcoming event At the Forefront of Freedom: The Women of Selma.