Media Inquiries
Latest Stories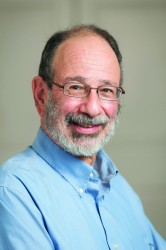 Alvin E. Roth, who shared the 2012 Nobel Memorial Prize in Economics, will discuss "Who Gets What and Why: The Economics of Matching and Market Design" from 4 to 5:30 p.m. Tuesday, March 22, in Wilson Hall, Room 103. A reception will follow his talk, which is part of the Department of Economics' Steine Lecture Series.
The event is free and open to the public.
Roth is the Craig and Susan McCaw Professor of Economics at Stanford University and the Gund Professor of Economics and Business Administration, Emeritus, at Harvard University. He works in the areas of game theory, experimental economics and market design.
Roth is responsible for re-designing the National Resident Matching Program, through which approximately 20,000 doctors a year find their first employment as residents at American hospitals. He also is one of the founders and designers of the New England Program for Kidney Exchange, which serves incompatible patient-donor pairs.
Roth is president-elect of the American Economic Association and served for many years as chair of the association's Ad Hoc Committee on the Job Market, which has designed a number of recent changes in the market for new Ph.D. economists. He is a fellow of the American Academy of Arts and Sciences and the Econometric Society and has been a Guggenheim and Sloan fellow. He received his Ph.D. from Stanford University.
The David Steine Lectureship was established in 1978 by multiple donors to provide support for an annual lecture in the Department of Economics in the College of Arts and Science. The lecture honors former Vanderbilt professor David L. Steine and addresses an economic problem of interest to the general public.
[campusmap]
Contact: Elizabeth TeSelle
elizabeth.teselle@vanderbilt.edu