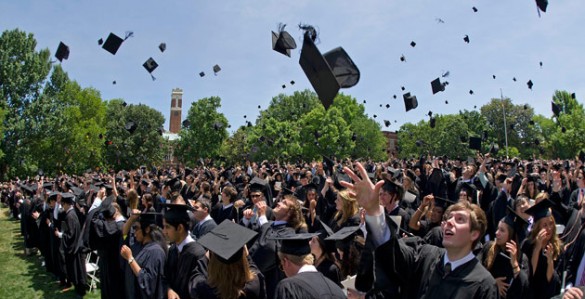 Vanderbilt is gearing up for Commencement 2016 and the Office of Commencement and Special Events encourages all university and Medical Center staff and students to register to volunteer to experience the excitement of the three days of events. Volunteers can choose to participate in all events or just one. The shifts are as follows:
THE PARTY – Wednesday, May 11
Join the fun at the event that kicks off the celebration. SIXWIRE featuring Charles Esten ("Deacon Claybourne") from the ABC hit series Nashville will get things started, and THE DOWNTOWN BAND will round out the evening. Volunteers are needed for two shifts:
Shift 1: 8–10:15 p.m.
Shift 2: 10:15 p.m.–12 a.m.
Dinner will be provided for all volunteers on Wednesday evening.
Senior Day – Thursday, May 12
Volunteers will have the opportunity to hear from national journalist and philanthropist Soledad O'Brien, who will give the annual Senior Day address at Memorial Gym. Volunteers are needed from 8:30 a.m. to 12:30 p.m.
Lunch will be provided for all volunteers on Thursday.
Commencement Day – Friday, May 13
Volunteers are needed from 6:30 a.m. to noon on Alumni Lawn for the big day for graduates, families, friends and faculty. Commencement will be held in Memorial Gym in the event of severe weather.
Breakfast and lunch will be provided for all volunteers on Friday.
Those interested can sign up now on the Commencement website or call the Commencement office at (615) 322-2870.