Media Inquiries
Latest Stories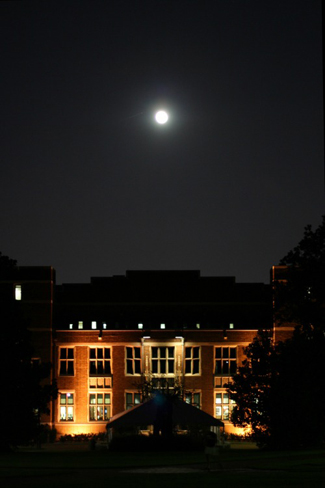 Dyer Observatory and Vanderbilt Libraries will present "Moon Watch and Moon Pies" March 15 from 7 to 9 p.m. on Library Lawn.
This free program combines a sweet treat with the opportunity for the public to see the moon's surface up close through a telescope. In addition, Billy Teets, the Dyer Observatory outreach astronomer, will be available for lunar-related questions.
"On March 15, the moon is in the first quarter and will be visible, weather permitting, after sunset," said Mary Anne Caton, senior consultant for educational and interpretative programs at Vanderbilt Libraries. "In case of cloudy or rainy weather, the event will move to March 21 from 8 to 10 p.m."
The moon viewing on March 15 and a "safe" solar viewing on April 27 are presented in conjunction with the library exhibit "Picturing Our World." Included in the exhibit is the Altazimuth Telescope, the telescope used by astronomer Edward Emerson Barnard in Vanderbilt's first observatory. "Picturing Our World," which runs through July, invites the community to expand its perceptions of the universe and locations closer to home through the use of digital technology.
Dyer Observatory, located at 1000 Oman Drive in Brentwood, encourages student and community interest in science, technology, engineering, math and astronomy through summer camps, teacher workshops, telescope nights, tours, lectures with world-class scientists and more.
Visit Central Library Hours for a schedule of hours that Central Library and the exhibit are open to the public. For more information about the program, contact Mary Anne Caton.