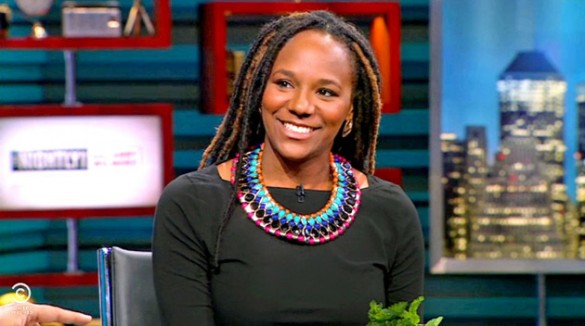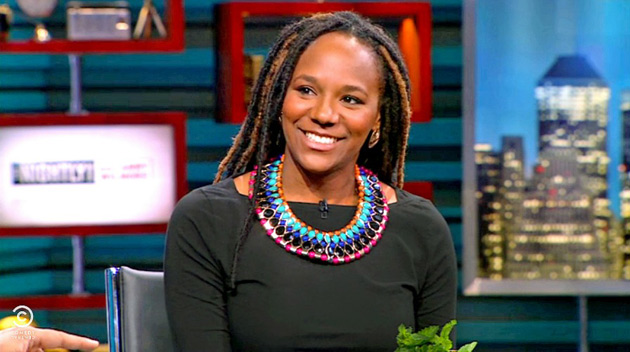 Bree Newsome, who made national headlines last June when she was arrested for removing the Confederate flag from the South Carolina statehouse grounds, will speak at Vanderbilt Divinity School March 22.
Newsome's lecture, "Tearing Hatred from the Sky," will begin at 6 p.m. in Benton Chapel. Her talk will be video-streamed for posting later on the Vanderbilt Divinity YouTube channel.
Newsome is an award-winning filmmaker, writer, composer, singer, community activist and organizer who combines many talents in pursuit of social justice.
Last June, as Newsome watched the funeral of the Rev. Clemenza Pinkney, one of nine people murdered at the historic Emanuel African Methodist Episcopal Church in Charleston, South Carolina, she considered the symbolism of the United States flag and the South Carolina state flag at half-staff while the Confederate flag remained fully furled. She decided she could no longer wait on lawmakers to debate the issue of removing the flag.
On June 27 Newsome woke up before dawn, strapped on climbing equipment and climbed a 30-foot flagpole on the grounds of the South Carolina statehouse grounds to remove the Confederate flag. Then she and a colleague were arrested on charges of defacing monuments on public grounds, jailed and later released on bond.
The photo of Newsome on the flag pole, flag in hand, went viral on social media. She became the "face" of the movement to remove the Confederate flag from the statehouse grounds before the flag was lowered there for the last time on July 10.
Newsome, a resident of Charlotte, North Carolina, is a field organizer for Ignite NC, which seeks to address solutions to problems facing North Carolina and the global community by working together for the common good and building the leadership and power of young people to create lasting change. Ignite NC is a project of the Southern Vision Alliance, a nonprofit that supports leadership development and base-building work for social, racial and environmental justice.
Newsome grew up in Maryland the daughter of Clarence G. Newsome, who was a longtime dean of Howard University's School of Divinity. While still in high school, she was awarded a $40,000 scholarship from the National Academy of Televisions Arts and Sciences for her animated short, The Three Princes of Idea.
Newsome earned a bachelor of fine arts from New York University's Tisch School of the Arts, where she majored in film and television. She was honored by the Directors Guild of America and NYU's First Run Film Festival for her 2010 short film Wake, a 20-minute horror film set in North Carolina.
Newsome's talk is part of the Transformative Justice: Culture, Race and Movement series that the Divinity School is offering in partnership with Scarritt-Bennett Center. This partnership draws on the expertise of both institutions and their historic commitments to offer people of faith resources for building a more just and faithful future.
For more information, email Sha'Tika Brown or call 615-936-8453.