Media Inquiries
Latest Stories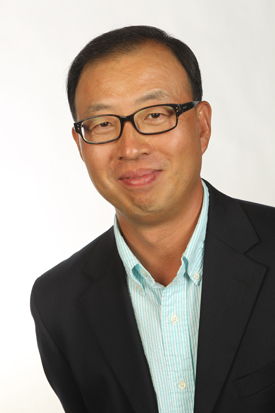 The Louisville Institute has awarded Paul Lim a 2016 sabbatical grant for his research on the growing number of evangelical Christians who are working on the front lines to end human trafficking and other social injustices around the globe.
Lim's project is titled "Evangelical Rescue? Global Christianity, Human Trafficking and Ecclesial Ethical Responsibility." He is an associate professor of the history of Christianity at Vanderbilt Divinity School and an associate professor of history in the College of Arts and Science.
"This will be the first transnational study of the global evangelical community's (represented at least partially by India, South Korea and the United States) fight against human trafficking that raises fundamental questions about how these Christians understand the implications of the Gospel," Lim said. "By doing so, it does justice to the fact that the concerns of the global church do not exist as a separate, indeed separable, compartment from the life of American churches."
Lim said that he first became aware of the trend of current conservative Christians becoming strong human rights activists while he was traveling and teaching at theological schools in nations that include Sri Lanka, India, Cambodia, Vietnam, Kenya, Tanzania and Ethiopia. He was struck by the large number of global Christian leaders who were working with non-government organizations and mission groups to stop human trafficking.
"Paul Lim's study will be an important voice in the various religious responses to human trafficking by adding the ways in which evangelical Christians are becoming human rights activists and efforts to stop human trafficking," said Emilie M. Townes, dean of Vanderbilt Divinity School and the E. Rhodes and Leona B. Carpenter Professor of Womanist Ethics and Society.
In addition, Lim has been selected to participate in a leadership role for the 66th United Nations Department of Public Information (DPI)/Non-Governmental Organization (NGO) Conference, which is to be hosted by the Republic of Korea May 30-June 1. Lim will serve as co-chair for the committee that drafts the official declaration at the end of the conference, which is titled "Education for Global Citizenship: Achieving the Sustainable Development Goals Together." Lim was selected in part because of his work on global evangelical NGOs' fight against human trafficking. He will be working with YuKang Choi, who received his doctorate in education from Peabody College in 2013. Choi, CEO of Korean NGO Dream Touch for All, is co-chairing the conference.
Lim noted that U.S. evangelicals seem more visible today in human rights campaigns than during the 1960s when the Rev. Martin Luther King Jr. and others were leading civil rights demonstrations. "The evangelicals were not necessarily opposed to Dr. King, but their silence and inaction probably spoke more loudly than their words of action, I suppose."
Some of Lim's research began with a study of the Lausanne Committee for World Evangelicalism, now known as the Lausanne Movement. The first meeting in 1974 was organized in part by the Rev. Billy Graham to bring together evangelicals and "re-frame the Christian mission in a world of political, economic, intellectual and religious upheaval," according to the organization's website.
"There was a group of people mostly from Latin America and South Asia who vociferously demanded that to truly understand the notion of the good news, you have to think about it in terms of social justice," Lim said. "The Latin American delegates were influenced by Liberation Theology, which places a strong emphasis on Christian churches aiding the poor and oppressed through political and civic involvement. Gustavo Gutiérrez, a Roman Catholic theologian and Dominican priest, is widely considered to be the father of the movement. Later many of the delegates felt that their Anglo-American colleagues did not take the social justice part of the group's mission seriously."
Lim also has studied the work of theologians Ronald Sider and Jim Wallis, who were among the founders of Evangelicals for Social Action (ESA) during the 1970s. "ESA became a very well-established global network of people who committed themselves to eradication of any presence and elements of injustice in the world, but some evangelicals saw this movement as a sliding down toward a theological liberalism takeover back then," Lim said. "A half-century later, there seems to be a melding of theological conservatism and theological liberalism in terms of the importance of social justice."
One example of current conservative Christian groups supporting human rights is the InterVarsity Christian Fellowship, a national evangelical campus ministry that has been at the forefront of racial reconciliation. Lim said that the group has come out in full support of the Black Lives Matter movement.
"So one component of my research is the involvement of American evangelicals in human rights advocacy, but I am also studying the involvement of Indian and Korean evangelicals with justice organizations," Lim said. "I will also look at the potential for what many would call 'neo-colonalism.' Is it part of our responsibility in the United States to tell citizens of other nations how they should behave and believe?"
Watch video of Lim's talk on his research at a recent Vanderbilt Divinity School community breakfast.