Vanderbilt Economics ranked first in the South in top scholarly output
by
Liz Entman
Mar. 7, 2016, 11:44 AM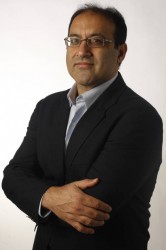 Vanderbilt's Department of Economics has been ranked first in the South by researchers who study economics education at Columbus State University and the University of New Haven. The ranking measures the scholarly output of a department's five most productive faculty. Vanderbilt's top ranking indicates that, despite being comparatively smaller than economics departments at some of the other schools, Vanderbilt's economics department is highly competitive in the research arena. Vanderbilt has risen nine spots since the ranking was first performed in 2001.
"We are proud of achieving this distinction and will do our best to retain the top spot among economics departments in the South," said Kamal Saggi, Frances and John Downing Family Professor of Economics and chair of the department. "Getting professional recognitions such as these is important not just for the university's overall prestige but also for ensuring the success of our students in both the academic and non-academic job market. Looking forward, it is critical that we continue to make every effort to attract highly qualified students and distinguished researchers to the department."
The ranking was developed by Franklin G. Mixon Jr., visiting professor of economics at Columbus State University, and Kamal P. Upadhyaya, Director of University Research in the Department of Economics at the University of New Haven.