Media Inquiries
Latest Stories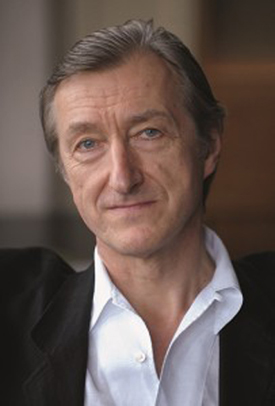 Julian Barnes, who won the Man Booker Prize in 2011 for his novel The Sense of an Ending, will read from and discuss his works on Wednesday, March 23, as part of the Vanderbilt University Chancellor's Lecture Series.
Barnes will speak from 6:30 to 7:30 p.m. in Ingram Hall at the Blair School of Music. A reception will precede the talk from 5:30 to 6:30 p.m. in the Ingram Hall lobby. The event is free and open to the public. Seating is limited and will be available on a first-come, first-seated basis. Tickets and reservations will not be issued for this event.
Parking will be available in the West Garage, located on 25th Avenue South near the intersection of Children's Way.
Barnes has written numerous short stories and essays, a translation of Alphonse Daudet's In the Land of Pain, and nearly two dozen novels, including The Noise of Time, scheduled for a forthcoming U.S. publication. His writing has earned him considerable respect as an author who deals with the themes of history, reality, truth and love.
In addition to the 2011 Man Booker Prize, Barnes is the recipient of many awards and honors. Three more novels were shortlisted for the Man Booker Prize, including Flaubert's Parrot (1984); England, England (1998); and Arthur & George (2005). In 2011 he was awarded the David Cohen Prize for Literature. Given biennially, the Cohen Prize honors a lifetime's achievement in literature for a writer in the English language who is a citizen of the United Kingdom or the Republic of Ireland.
In addition to his March 23 Chancellor's Lecture, Barnes will appear with acclaimed pianist Angela Hewitt at 8 p.m. March 24 in Ingram Hall for "An Evening of Words and Music." This unique program will interweave music, poetry and prose, combining Barnes' award-winning writings and works by other noted authors with pieces by Bach, Brahms, Mozart, Messiaen and more.
The Vanderbilt Chancellor's Lecture Series strives to connect the university and the Nashville community with intellectuals who are shaping our world. For more information about the series, visit the Chancellor's Lecture Series website, email cls@vanderbilt.edu, call (615) 322-0885, or follow on Twitter @VUCLS.